For the past month I've been annoyed by the amount of time it takes for my new bluetooth headset to pair itself with windows.  The problem is not the bluetooth pairing but the actual device "coming online" and Windows 7 subsequently deciding it need to locate and install a new driver EVERY SINGLE TIME the device is connected.    The problem is that Windows 7 always searches the online directory first for any new drivers or updates.  That takes FOREVER.
Slight diversion into my theory of Windows 7 Driver Search technology.  I swear they are sending the driver request to a computer that has electrodes hooked up to trained baby squirrels.  The squirrels then go out into the forest looking for a nut they buried at some point in the past.  This process takes approximately 10 minutes 37.23 seconds to complete.   The special Microsoft Squirrel Automatron (the MSA) then retrieves said nut from the trained baby squirrel and scans it for a bar code that indicates which driver should be downloaded to your PC.    Most of the time the squirrels eat the nut on the way and you get "no driver found".   Every now-and-then a squirrel gets hit by a car which is the real reason why your PC locks up randomly or throws a blue screen of death.     Either way the process is slow and it sucks.
So in an effort to save the lives of baby squirrels I finally decided to take 3 minutes to turn of that damned "Searching Windows Update For Drivers" process that happens EVERY SINGLE TIME I turn on my bluetooth headset.   It only took about 33 different times of either waiting for Windows to finally get a nut from the squirrel or for me to abort the process early and click the "skip obtaining drivers from windows update" link before I did this. Hopefully you found this post after the 3rd or 4th day of dealing with that driver installation delay.
Here is how you turn off the automatic "Searching Windows Update for drivers".   This is especially useful for devices you've installed previously and know you have a driver that works already on your system.   It will also keep the Windows Update driver search intact for those times when you install a new piece of hardware and do not have a driver already available locally.
Go to the Windows Start Menu.
Right-click on Computer.
Select Properties.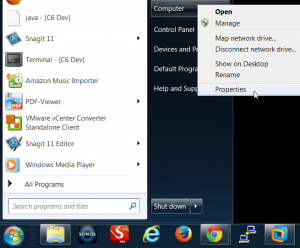 Click Advanced System Settings.

Click on the Hardware tab.
Click the Device Installation Settings button.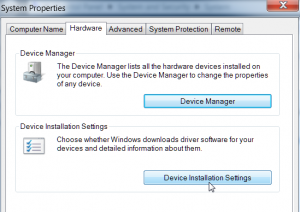 Click the No, let me choose what to do radio button.
Click the Install driver software from Windows Update if it is not found on my computer radio button. (the Save The Squirrels button).
Click Save Changes.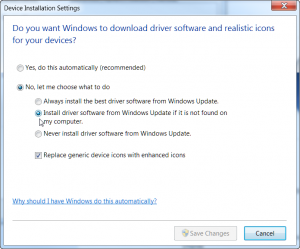 Click OK or the close window box back through the stack of windows until you are back to your starting point.