Ran into a unique situation while updating my VVV box after  a weekend of WordPress Core and plugin development at WordCamp US this past weekend.   Today, after the formal release of WordPress 4.4 I needed to update the code in my WordPress trunk directory on the VVV box.  Since I have other things in progress I didn't want to take the time to reprovision the entire box.  Though, as it turn out, that would have been faster.
The issue was when I tried to do the svn up command to update the /srv/www/wordpress-trunk directory and make sure I was on the latest code.   The command failed, insisting that a previous operation was incomplete.  Not surprising since the connectivity at the conference was less-than-consistent.    svn kindly suggest I run svn cleanup.  Which I did.  And was promptly met with an "invalid device cross-link" error when it tried to restore hello.php to the plugin directory.
The problem is that I develop plugins for a living.   As such I have followed the typical VVV setup and have linked my local plugin source code directory to the vvv plugin directory for each of the different source directories on that box.    I created the suggested Customfile on my host system and mapped the different directory paths.     On the guest box, however, the system sees this mapping as a separate drive.  Which it is.  And, quite honestly I'm glad they have some security in place to protect this.  Otherwise a rogue app brought in via the Vagrant guest could start writing stuff to your host drive.   I can think of more than one way to do really bad things if that was left wide-open as a two-way read-write channel.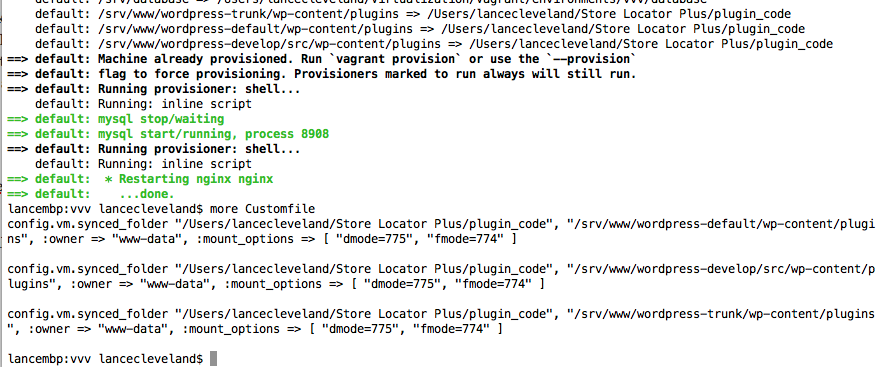 The solution?
Comment out the mapping in Customfile on the host server.  Go to your vvv directory and find that Customfile.  Throw a hashtag (or pound sign for us old guys) in front of the directory paths you are trying to update with svn.  In my case wordpress-trunk.
Run the vagrant reload command so you don't pull down and provision a whole new box, but DO break the linkage to the host directory and guest directory.
Go run your svn cleanup and update on the host to fetch the latest WP code.
Go back to the host, kill the hashtag, and reload.
Hope that saves you an extra 20 minutes surfing Google, or your favorite search service, for the answer.