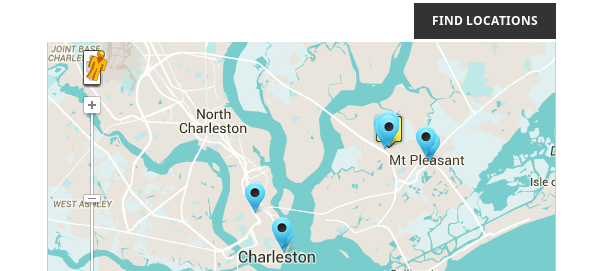 Store Locator Plus 4.2.54 was released today will several notable updates.   The updates include preparations for better location export performance in an upcoming Pro Pack release, custom Google map styling for an upcoming Enhanced Map release, and several patches for that impact all users of the base plugin itself including preparations for new Premier Member Only features and services.    One of the most-requested features, however, is the saving of custom CSS stylesheets (plugin themes) when updating the base plugin.
Saving Custom Stylesheets
Starting in version 4.2.54, whenever you select a custom plugin theme from the User Experience / View tab in the Store Locator Plus admin panel, a copy of your theme file is saved in a "safe directory" on the server.    From that point forward, when the next update of Store Locator Plus rolls out you can upgrade without having to re-upload your custom theme file.    Store Locator Plus will automatically locate and restore the custom theme file that you were using prior to the upgrade.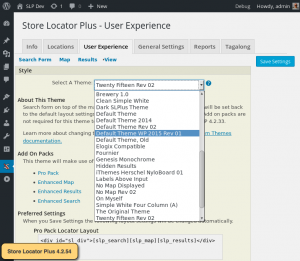 This update does require you to first save your current plugin theme file locally and re-upload it AFTER installing SLP 4.2.54.   Once you have done that process go to User Experience / View, select your newly-uploaded custom theme file, and you will be good-to-go for any future updates.
One less step in your SLP upgrade process if you have built custom theme files.   Some people are really going to like that update!
Data Performance and Location Export
Pro Pack allows for locations to be exported from your Store Locator Plus installation into a CSV file.   However some servers have very limited memory resource and "just stop" for no apparent reason when doing a location export.    It turns out that nearly every single error and warning reporting system in PHP and your web server are disabled during WordPress database I/O operations.   Another important note about the WordPress data engine is that it tries to cache ENTIRE DATA REQUESTS into memory whenever you perform a data operation through the data engine.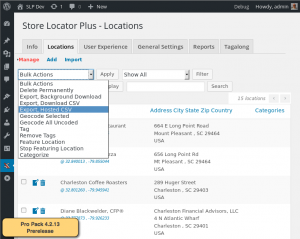 Since Store Locator Plus uses the built-in WordPress database engine for performance and consistency reasons, it means that whenever you elect to export your locations the entire location database is put in working memory on the server.  On a busy server or on a smaller server with limited RAM the export operation would often stop with no indication or warning as to what went wrong.  Even if you enabled full debugging there was no clue that the WordPress DB engine ate up all the memory on the server and died.
To avoid this problem the Store Locator Plus base plugin has added several new data I/O statements that allow plugins like the Pro Pack add-on to specify things like "only get one record at a time and load it into RAM".    While the general claim is that this slows down performance versus the cache method employed by default in WordPress, limited test results show that the export process is no slower when doing a the "record at a time export".   In fact on several servers the process was actually FASTER.  More important, however, is that on the busiest server as well as the lowest-memory configuration server an entire set of 200,000 records was exported without failing.
Pro Pack updates are coming soon that will take advantage of this feature.   Pending further performance testing, this feature is likely to make it into several features in the base plugin as well as additional add-on packs.
More Map Customization
The new update includes minor revisions to the Google Maps JavaScript interface.  The new revision will allow site administrators to employ custom JSON style rules to the Google Maps itself.   You will no longer be relegated to having your map look exactly like every other Google Map on the planet.   This new revision allows you to grab pre-configured JSON style rules from places like Snazzy Maps or to craft your own and create a truly custom look for your map interface.      The new map style feature will be part of a forthcoming Enhanced Maps update that is now being tested.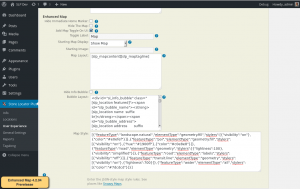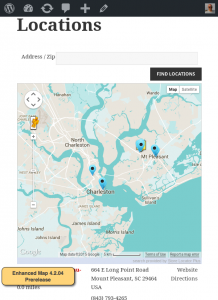 Premier Member Features
You may notice a couple of new settings in the General Settings / Admin tab in Store Locator Plus.    A new section for "Premier Members" where subscribers can enter their User ID and Subscription ID.    These new settings will enabled advanced features available only to Premier Members with an active subscription.    Exclusive Premier Member's Only features will be coming to Store Locator Plus over the next few months.
Existing Premier Members should keep an eye out for Store Locator Plus news related to the new features.  Not a Premier Member yet?  Subscribe now and lock in the current monthly or annual subscription rate.   As the exclusive features list grows, so too will the membership fee.
Store Locator Plus Change Log