More work has been done on Store Pages and Tagalong over the past few days in preparation for the SLP4 release.   The main focus over the past 48 hours has been getting the new Tagalong Icon Array to show up on the Store Pages.   Along the way I ripped out a bunch of legacy Store Pages code and uncovered a hornet's nest of issues that I'll be sorting out over the next week.    In the meantime the new version of Store Pages that is coming with SLP4 will be a good bit lighter and a bit more stable when it comes to the location data.    A big part of this is using the new standard location class that has been in Store Locator Plus for nearly a year now.  That location class helps keep all of the Store Locator Plus add-on packs in sync without having to do a lot of add-on-to-add-on communication.     Finally Store Pages is "with the program".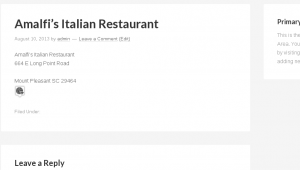 As for new features, Store Pages will be getting a new iconarray field qualifier, as in [storepage field="iconarray"] to display the icons for all of the categories that have been assigned to a location.    This is similar to the Enhanced Results shortcode that will ship that allows for icon arrays to appear in below the map listings.
To round out the offering, Tagalong also adds a new tag [tagalong legend] that will output an icon array to be used as a legend on the map interface.  Pro Pack will help position that legend where you want it on the page.