Version 4.2.16 of Store Locator Plus was released today.  The latest update focuses on the search functionality on both the front-end JavaScript processor and the back-end AJAX handler in WordPress.    The update makes several notable changes to how location data is sent and processed on the server especially in situations where the address search field and radius selections have been hidden.
How Search Changed
The search processor has changed significantly in the current release of Store Locator Plus.    In testing the changes have not indicated unintended consequences caused by the change, however the behavior of certain location searches will be different.   The biggest change is that the automatic centering of the map uses an improved algorithm.   The new algorithm does NOT use prior searches as the "anchor point" for subsequent searches.
The impact of the change is especially notable on sites that utilize the advanced search features provided by the Enhanced Search add-on pack.   In situations where the address input field is hidden and a simple city, state, or country selector is provided ; the search will automatically center on the locations that are displayed by the search action.     In prior releases the past search address, or center of map setting set for the initial search, would always be included.     If the center of the map was set to Charleston SC, USA and you selected "United Kingdom" from a country drop down your map would center over the Atlantic Ocean and be zoomed out from the UK locations.   The new release will forget the original Charleston SC location and zoom in closer to the UK locations.    Based on the feedback from the Store Locator Plus community, this is the desired behavior.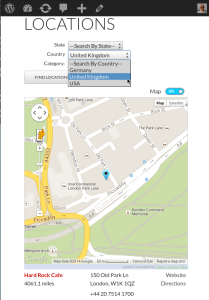 This can pose a new issue, however.    The distance shown in the results output is based on the current home, or center-of-map location.    When the address field is hidden or remains empty the distances shown are always from the default center of the map.    In situations where a site is designed with the address search field hidden, it is recommended that the designer use the Results Layout of Enhanced Results and remove the distance field from the output.
Google API Key Change
The Google API key now requires SSL (https) communication with the Google Servers.  If the Google API Key is present the Store Locator Plus geocoding system will force HTTPS communication with Google.  These ports must be open on your server for geocoding to function if you are using the Google API Key.   In the current iteration of Google Maps API for JavaScript V3, which is now 2 years old, the Google API Key does NOT increase geocoding request or improve performance of location lookup.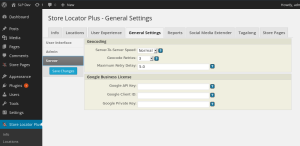 Other Changes
Map markers now show the location name when you hover over them.
A number of smaller changes in the JavaScript processor consume less memory and increase performance of the results processor.
The minimum zoom level on the map is now set to 1, eliminating the "double world" image when zoomed out too far.
The Swedish language files are not included in the Store Locator Plus distribution.
Location images are now shown on the manage locations table if they are set.
Fixed a bug where searches would not execute if ignore radius was on, the radius selector was hidden, and the address field was hidden.
Removed the home marker on secondary searches when the address field is blank.
Store Locator Plus Changelog