No matter what I tried I could not get my new HTC Incredible 4G LTE to show up on my Windows 7 (64-bit) system.   I found a TON of posts and sites, mostly spam sites, giving me advice or trying to get me to install something I didn't need.    At the end of the day the solution that worked is ridiculously simple.
How I Got Win 7 To See My Incredible
Two easy steps:
1) Make sure I was not running in debug mode (not a default, but I develop mobile apps so I had this on).
2) Select "Media Sync" as the mount mode.
Turning On Media Sync
If your phone is acting normally it will sense the connection to a PC when you connect the USB cable.  If not, make sure you are using a qualified micro-USB cable that provides both data and power connections.  The cable that came with your phone definitely has this as will 99% of after-market cables.    I had "mucked with" my phone so much that that connection did not always come up.
You can change the connection type manually by going to your phone settings, and going to "Connect to PC" and changing default type to "Media sync".  Disconnect and re-connect the phone.     When I did this my phone magically was recognized by Windows 7 and the phone driver was automatically installed.
My HTC Incredible 4G LTE is shown as an "Android Phone" device name "ADR6410LVW".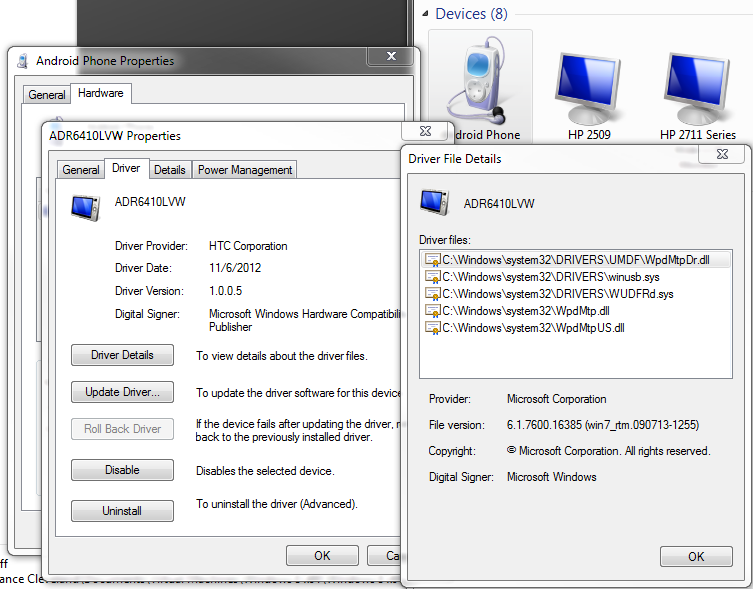 Failed Attempts
Oddly enough with ANY other mode the phone was seen as connected but windows update would always say "could not locate driver" and leave it as an unrecognized device.   I also had downloaded the HTC Sync Manager and installed it.  That created a folder in my Program Files (x86) directory with Windows 7 64-bit drivers as a folder but NONE of those drivers, even after installing them manually worked properly.
Some of the things I tried:
Verizon Backup Assistant
Huge bloated software that tries to be a PC backup for your media, but is a poor excuse for a backup app.  If you want backup go use Crash Plan.   In addition the Verizon Backup Assistant, or BA Plus as they call it, requires Apple QuickTime.  Talk about bloat.  Then when it runs it is very unstable and hangs frequently.   Worst of all it never "saw" the HTC Incredible so the threads that said this would install the proper drivers did not help one bit.
HTC Sync Manager
Much cleaner & lighter than the Verizon app, and a native Windows 64-bit application.   It looked like a nice UI and did create a drivers folder with HTC Incredible 4g drivers for Windows 7.  In fact I may very well need those when I do my Android apps and need to connect with the ADB (Android Device Bridge) but they DID NOT help my PC "see" the Incredible and I could not mount it as a hard drive in either "Disk Drive" or "HTC Sync" mode.
Summary
At the end of the day simply changing the connection type to "Media Sync" got all the pieces I needed.   Hopefully that will work for you as well.  If not, here is the driver kit that was installed "automagically" for me in my Windows System 32 folders:
DRIVERS\UMDF\WpdMtpDr.dll  6.1.7600.16385 (win7_rtm.090713-1255)
DRIVERS\ winusb.sys 6.1.7601.17514 (win7sp1_rtm.101119-1850)
DRIVERS\WUDFRd.sys 6.2.9200.16384 (win8_rtm.120725-1247)
WpdMtp.dll 6.1.7600.16385 (win7_rtm.090713-1255)
WpdMtpUS.dll 6.1.7600.16385 (win7_rtm.090713-1255)
Hope this saves you a few steps.