Yup, here again. Setting up my Samsung Galaxy S5 after a random factory reset. Unfortunately, in today's connected world the phone has become the linchpin of my techno-geek world. My two-step authentication system ensures it takes an extra 20 minutes to log into any service I care about when my phone is MIA. Thousands of messages, contacts, and other data needs to be re-downloaded into the phone so I know who (843) 555-1212 is on SMS or when a telemarketing agency is calling. It takes HOURS to reload all the moving parts.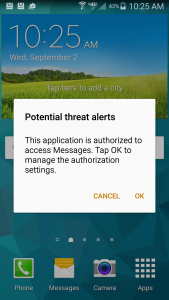 What a huge pain!
Turns out I'm not alone.
Random factory resets of Samsung Galaxy S5 phones are a known phenomenon that apparently Verizon and Samsung are content to ignore. Too hard to reproduce so it must be user error. Or a bad app. Couldn't possibly be an issue with Samsung's hacked version of the Android OS or bad firmware, right?
Android Lollipop Barfing
The most likely and most common problem with the random factory reset appears to be related to corrupted cache files in Android OS after a system upgrade. Interestingly, all 3 times that my phone decided to just reset for no apparent reason it was within 2 weeks of an Android Lollipop update pushed out by Samsung.
Very coincidental, isn't it?
Turns out that the fix is… A HARD FACTORY RESET.
Wonderful. The only solace with that fix is that you may get to spend the two hours reloading your phone during a time in your life when it is the least inconvenient.
Really not much different than a random reset, but at least you know its coming.
To start the process power off your phone then hold down the power, volume up, and home button at the same time. When you see the loading screen with blue text at the top you can release the buttons. Follow the on-screen menus to do a full factory reset and data wipe.
Yes, this is like getting the phone for the first time. Yes it sucks. Yes you will need to reload all your stuff (you do use Google and Samsung and a third party backup service right? You'll need all 3 if you don't want to re-invent the wheel every time this happens). No, your home screen, keyboard, and other configuration settings will not come back. Now you know why so many Samsung S5 users have the default screen. Why customize when you'll be back to that default in 3 months whether you like it or not.
Bad Battery
Very rare.  However if your battery is defective it will overheat and warp.  Take the battery out.  Put it on a flat surface.  If it does not lay flat on the table you need to replace the battery.   Good luck getting it repaired under warranty.   Luckily batteries are inexpensive.
Bad Apps
Some sites, typically Samsung or Verizon-driven forums and support personnel, claim apps can cause the factory reset.  Sure.  Very unlikely as that is a HUGE security nightmare in Android OS, but I guess anything is possible.   The suggested fix is randomly delete apps that were loaded on your phone until the problem goes away.   Uhhh… exactly how often does a random factory reset happen?   That is like closing your eyes in a dark room, spinning around in circles, and trying to pin-the-tail-on-the-donkey without ever turning on the lights to know if you were successful.
Personally I think this culprit is nothing more than fairy tales and pixie dust to keep you busy and away from the support people.
Samsung OS Updates
Ultimately I think Samsung and Verizon need to stop screwing with the base Android OS builds to cram in a ton of crappy apps nobody wants.   Those apps are nothing but modern day spam that most people don't want.  They consume excess memory and screen real estate with the only purpose being to line the pocket books of Samsung for hocking other people's wares.   Wake up.   Nobody wants your crap and if they could delete all the force-fed shit on the phone for more memory and storage space and less app problems they would do it in a heartbeat.
Stop "tweaking" the OS and make a stable version that does not randomly reset every few months.
IOS – The Gold Standard
Sadly, if they ever DO make that version there will be more-and-more people like myself that will refuse to install the update for the ever-present fear of incurring the curse of the random reset.   Instead many people will be in the same situation I am.  Just waiting for my 2-year contract to expire so I can finally stop fooling myself into thinking that Android will every be a gold standard.   iPhone IS the gold standard which is readily apparent by every single device-and-service you could ever want to use granting Apple front-of-line status and relegating Android users to play the role of red-headed stepchild.    Starbucks.   BMW. Smart Lock.  Smart Home.  And big luxury brand has full-feature apps on IOS and half-baked crap and Android.