Tagalong, the Store Locator Plus add-on pack that provided categorization of your location and allows for custom per-location map markers and icons, has been updated to version 4.1.06 today.
Today's patch includes several fixes including the formatting on the admin page for the map marker and icon selector, allowing quick edit on the category page without resetting the markers and icons, and Pro Pack CSV export fixes.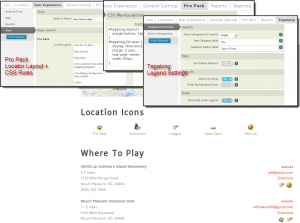 Release Details
WP Versions
Tested 4.5.3 , Min 3.8
Description
A premium add-on pack for Store Locator Plus that adds location categories as an advanced form of tagging.
Change Log
Visit the
SLP Website for details
.
4.5.07
Changes
Include own CSV Import class, the base import class will no longer be part of SLP as of 4.5.07.

4.4.03
Tested with WordPress 4.5.

Updated to support SLP 4.5 REST API.

Update German Translations.

4.4.01
Changes
Language file update for nl_NL.

Fixes
Version reporting updating.

4.4
Changes
Legend update, fixed to return legend with WordPress 4.3+ due to changes in WordPress Taxonomy structure.
4.3.03
Enhancement: add a filter to allow SLP Website for details to change the category name separator from ", " to something user-defined.

Change: More efficient code-loading sequence with Store Locator Plus.

4.3.01
Enhancement: Add slp_tagalong_default_selectors filter. Allows SLP Website for details to extend the Tagalong category selector types.

Enhancement: Simplify the WP/SLP activation test.

Fix: Get rid of the broken image icon on the category editor page when no icon/marker has been selected.

Fix: Delete the stores taxonomy metadata from the wp_options table when a category is deleted.

4.3
Change: Requires SLP 4.3

Enhancement: Use updated add/edit locations format for category data.

Enhancement: Hide single tagalong category drop down if store taxonomy list is empty.

Enhancement: Hide cascading tagalong category drop down if store taxonomy list is empty.

Fix: Address bulk import of categories bug.

Fix: Deleting categories from the WordPress categories interface no longer leaves "orphan" categories assigned to locations.

February 2015 (4.2.03)
Enhancement: CSV Exports from Pro Pack now export the plain text category not the category slug for easier import/export.

Enhancement: The sort order for locations now uses an intelligent array which presents a more consistent and stable operation with multiple add-on packs in place.

Fix: Filter locations by category on manage locations.

Enhancement: Add category_count to the AJAX marker return [slp_location category_count] to show the count of categories for a store.

Enhancement: Add category_names as comma separated list of category names in AJAX marker return [slp_location category_names].

October 2014 (4.2.01+)
Note: requires SLP 4.2.06+

Note: requires WP 3.7.0+

Enhancement: Update Dutch (nl_NL) translation by SLP Website for details.

Enhancement: Updated to use SLP 4.2 add on framework.

Enhancement: Added a per-category URL setting, if set it will link the icon to the specified URL.

Enhancement: Added a URL target for the per-category URL setting, used to determine the target window to open (_blank, etc.)

Enhancement: Added a per-category rank (1,2,3...) to help with sorting out the map marker precedence.

Enhancement: New fields, category_url, url_target, and rank have been added to the category import tool.

Enhancement: Tweak the generic WordPress category add/edit/update messages.

Enhancement: Add Icon and Map Marker to category manager page.

Enhancement: Add a series of square colored icons to the icon picker. Yellow, blue, black, green, orange, purple, red, and white 32px shadowed boxes.

Enhancement: Rank attribute on store categories determines which map marker is to be displayed. Lower numbers are higher priority.

Fix: icon display fixed via SLP 4.2.06 update

Fix (4.2.01) : Export Locations with CSV patched the Pro Pack export hooks.