Well, it finally happened.    Today I received a letter from an attorney advising me that the infamous Google Maps patent troll has finally landed in the Store Locator Plus neighborhood.   While the letter seems to indicate that the action is being taken against a company with a WordPress site that happens to use one of my plugins (among many others), I can only wonder how long it will be before the notorious "GeoTag Inc" troll comes crawling under my bridge and starts demanding ransoms from Charleston Software Associates or any of my customers.
Not that my plugins are anything special to warrant attention.   The core technology is based on the readily available sample code provide by Google for the Google Maps API.  It is public domain code that has been used in HUNDREDS of mapping themes, plugins, and even proprietary products.  It does not live in just my plugin, WordPress plugins, or even just Google related products for that matter.
GeoTag, Inc., however, feels they have a US Patent (US Patent Number 5,930,474) that means that ANY website that has a map showing locations of ANYTHING on it is using their patent and that they are due some form of compensation.   While I'm not a patent attorney, it seems as though Google and Microsoft both feel like GeoTag Inc. has an invalid patent that they are using as today's favorite method of extortion: patent trolling.   In fact, Google and Microsoft filed for a declaratory judgement against GoeTag, Inc. a few years ago trying to get an injunction on the practice. Companies that don't have the resources to fight the legal battles, are just a little less informed and are tricked into thinking they may have done something wrong, and others that just would rather pay up & move on to managing their business all have been caught in the patent troll trap.
Personally I despise the patent system, even though I've contemplated using it.  So much so that I've filed some provisional patents myself.  IMO the patent system is just plain broken when it comes to technology, ESPECIALLY software related technology.    I am also a very big fan of winning business and monetary rewards by doing your job better than anyone else.  Not by suing the crap out of people that are better at doing something than you are.      Patent trolls quickly move from having had some expertise in a field, such as geo-location software, to being nothing more than experts in litigation.   Just smart enough to be a pain in the ass but not smart enough to contribute to society in a meaningful and productive way.   Just enough ambition to get in the way, but not enough ambition to actually do something useful.    In other words, smart and lazy.  The worst possible combination of traits there can be.
In the case of GeoTag, Inc. it is even worse.  They created and invented NOTHING.   They are in business solely in the industry of being a "Patent Troll".    This has become so prevalent that I'm pretty certain the US Government has a new North American Industry Classification (NAICS) just for this type of business.   GeoTag, Inc. has purchased patent portfolios for the sole purpose of "suing the crap out of people" and collecting on the patents.    They even created the fictitious name "GeoTag, Inc." to make it "feel' more like they actually built or created or have some other legitimate purpose related to geo-location technology.    I guess "Pa-Troll, Inc." would not have sounded as "techie".   Probably a good marketing move on their part.
Interestingly, GeoTag, Inc. sent out HUNDREDS of patent violation letters through their hired guns to try to raise even more cash, or more accurately the PERCEPTION of potentially more cash value in their portfolio of patents so they  could go public.   They filed with the SEC in 2010 to become a publicly traded company but then withdrew the request 18 months later in 2011.     The amazing part is that along the way they are trying to pretend they are a technology company and pretend they actually created something when their very well documented historical path shows they have done nothing but build a patent portfolio they use to employ teams of attorneys to collect revenue from companies that are actually creating value.
I think the history of the founders of GeoTag says it all.  Direct from the GeoTag Inc. website:
Chief Executive Officer, Director and Inventor John W. Veenstra … served as CEO and Chairman of Cityhub.com, Inc., a privately held patent holding company.
I guess I should not be surprised that John's personal website attempts to inject a virus via a Mass Injection attack that can perform keylogging and website redirects.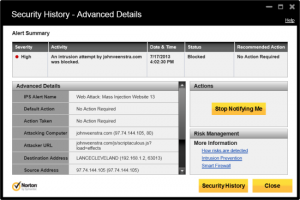 In the meantime I will let things take their course, continue to develop ever improved products, and try to make for a better experience for everyone by refining, improving, and expanding the software systems that makes life easier for my clients and their customers.
References
The First Letter
McDermott Will & Emery Letter Re Frontier Comm Corp (pdf)
Foss Patents : Microsoft and Google jointly sue GeoTag, Inc.
Google and Microsoft have joined forces to take down a Texas company's geotagging patent that they claim has been used in lawsuits against more than 300 entities, many of which are customers of the two companies. Microsoft and Google want to protect Google Maps and Bing Maps against this kind of activity.
http://www.fosspatents.com/2011/03/microsoft-and-google-jointly-sue-geotag.html
Law 360 : Microsoft Settles Map-Service Claims In Ongoing Patent Suit
Law360, New York (May 14, 2013, 7:29 PM ET) — GeoTag Inc. has agreed to drop claims that Microsoft Corp.'s Bing Maps service and other map-related products infringe the nonpracticing entity's store-locator patent, according to a stipulation approved Tuesday that said the parties would continue litigating other claims.
http://www.law360.com/articles/441471/microsoft-settles-map-service-claims-in-ongoing-patent-suit
The Patent Examiner: GeoTag Searches for More Local Search Engines To Sue
So far, none of the company's 20 cases has closed or gone to trial.  Attorney Joe declined to say how many licensees the company has garnered through litigation.
In March of last year, Microsoft and Google, usually fierce rivals, filed an unprecedented joint lawsuit against GeoTag, seeking to knock out the company's patent. The complaint said that GeoTag's suits "have placed a cloud on the Plaintiffs' web mapping services" because many of the defendants are their customers. That lawsuit is still pending.
http://patentexaminer.org/2012/02/geotag-searches-for-more-local-search-engines-to-sue/
Microsoft and Google v. GeoTag Inc.   May 2013 Claim Construction
http://www.ded.uscourts.gov/sites/default/files/opinions/rga/2013/may/11-175.pdf
BizJournals San Jose : Trolls file most patent lawsuits in 2012
LexMachina said that four of the top five patent litigants in its study only use their intellectual property for licensing and litigation. They were Arrivalstar, TQP Development, GeoTag Inc, Pragmatus AV.

Only one of the top five, Brandywine Communications Technologies, was classified as an operating company.
http://www.bizjournals.com/sanjose/news/2013/04/09/trolls-filed-most-patent-suits-in-2012.html