If you've been following my threads for the past month you'll know that I've been searching for a new project management and online collaboration tool for a new company that is launching in early 2015.   For the past year I've been using Trello for Charleston Software Associatesbase projects.
As a single-man operation with occasional support from outside contractors, Trello worked well.  For a larger project, however, it quickly became overwhelming.  10 lists, 300+ cards.  It was a nightmare to find what people were working on, what should be done next, or just finding an important document. The quest was on to find a new task and project management tool.
After reaching out to a half-dozen of my highly-respected CTO-level peers I've come to a realization.  There is no good online collaboration / project management tool.   The answers that came back often were accompanied with "it seems to be working OK, I guess" or "we never found one we really liked".   This is from people that are running operations with anywhere from a dozen to hundreds of employees.   They've done their homework.    Nobody came back with a "you must use THIS, it rocks".
What Are People Using?
It seems a combination of tools, many of which I've already explored.  Most corporate teams are using a project/issue management tool for the tech team, a basic task management tool for the rest of the team, a group chat application, and Google Docs.
JIRA for Tech Issue Management
JIRA was a common refrain, but only for the technical team and usually directly related to code development and issue tracking.   Apparently it is good for tech geeks but not simplistic enough for executive and management teams.   Having used JIRA in the past, I know where they are coming from.  It is great for complex technical projects where code commits, issue tracking, bug reports, and other software development lifecycle (SDLC) tasks arise.  Not good for general business task/project management.  If you need a PHD in computer science to use a web app it is not a good tool for the entire business team.
Basecamp, Trello
For task management there was no clear answer.  The answers were different from nearly everyone that responded.  Basecamp was repeated twice. Trello had two "votes".  People are all-over-the-map on this one.  Apparently there is not a single outstanding task/project management tool for executive teams.  This is where everyone seems to be making a compromise between "too simplistic" or "overly complex".   Personally I think Basecamp could run away with this category, but it is readily apparent that they have been established for so long that they are no longer in competitive development node; meaning no significant new features will be released any time soon.
Skype, Google Hangouts, HipChat, Slack
Group chat was another area where I received a different answer from everyone that responded.   Skype seems to be the go-to default for many people I've worked with in the past, but in my small sample-set there was literally not a single repeat recommendation.  Personally I prefer Google Hangouts.  Their recent updates work far better on a variety of devices and OS deployments.  Google Hangouts has also added a quick-download for doing live broadcast streaming, audio conference calls, video conference calls, and screen sharing from a fairly simple UI (they call it "On Air").  For my deployments Google Hangouts works far more consistently than Skype.  Skype, however, seems to be the defacto standard as 90% of remote teams I work with all seem to have a Skype account.   I think Google Hangouts with their free International calling minutes and improve broadcast/screencast options will soon make a dent in Skype's dominance.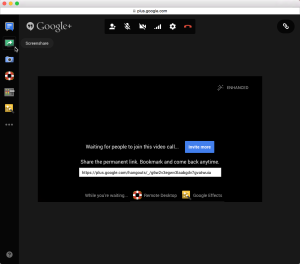 Google Docs
This is the only option that was fairly ubiquitous.  NOBODY mentioned Microsoft Office as an online document sharing/collaborative editing tool.  Seems like Google has run away with this category much to the chagrin of Microsoft.   Microsoft Office was, and still is, the desktop document editing standard.   In the online world, however, they have ceded this position to Google Docs.   From my personal experience Google Docs has a long way to go to match MS Office when it comes to document formatting and related tools, but for online collaboration is is simple, free, and easy to setup.  Microsoft makes it too difficult and costly to get started with their online collaboration tools.  The other downside is it would take a month to port the hundreds of documents from my Google Drive to the online MS Office offering.  Bottom line, if you are doing online document sharing use Google Docs.   Another bonus –  Google Drive, where you Google Docs live, integrates with all of the up-to-date web apps including most of those noted above.
THE Online Collaboration Tool
I've not found THE perfect online collaboration tool.   It simply doesn't exist or has been created but is so low profile it isn't on any radar including Google search.   I've tried over a dozen products at this point and have run into a myriad of issues as noted in my past articles.
As an aside, I have migrated my personal and CSA tasks from Trello to Asana as I have outgrown the simple format of Trello.  However Asana is not a perfect fit but is my compromise solution as anyone on my CSA team will be technophiles and won't need training on using Asana.
The trials and tribulations of searching for the right tool included:
Trello – too simplistic for large projects.  Basecamp – search and document attachments suck.  Asana – too confusing for most users and no project-level tasks/docs is a major setback.   Teamwork – too complex.  JIRA – too tech-centric and too complex.   Glimp – too young and buggy.  There are a dozen others.    Including recent tests from companies pitching their wares to me on Twitter such as Proofhub that starts off with a blank screen after signing up; not a confidence-inspiring start.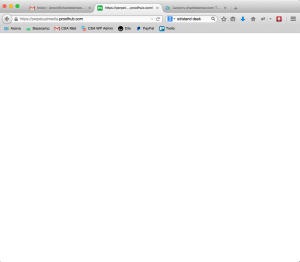 Seems like online collaboration and project/task management is a market ripe for a new entry to take over the market.