The WordPress location finder and directory building plugin, Store Locator Plus, released version 4.2.43 today.   The new release adds improved import notices and works in tandem with both the Pro Pack and Tagalong add-on packs to provide better notification of problem imports.   The new release is also better at testing CSV headers and file formats and stopping the import process before grinding through thousands of potentially errant data entries.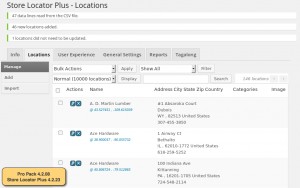 CSV import processing allows businesses to load thousands of locations at once into the locator plugin.   Sites employing a Google Business or OEM license can load and geocode up to 100,000 locations per 24 hour period.   Sites using the standard, and no-cost, Google API service that is built into the product can import and geocode up to 2,500 locations per day.
Store Locator Plus provides the "enter your zip code and get a map of our locations" feature for web sites and mobile apps.   The product requires little-to-no technical knowledge to list locations and implement the interactive search-and-map interface.    Over 10,000 active installations range from small businesses with "a handful of locations" to organizations with over 250,000 locations being served.
Pro Pack brings the "enterprise-level" services to the free Store Locator Plus base plugin.   The Pro Pack includes CSV import for locations, the location sensor that allows the web pages to get GPS coordinates from a mobile device or GPS-aware desktop web browser, and search-and-results reporting.   Pro Pack version 4.2.08, being released in tandem with the Store Locator Plus update, utilizes the new features in the base plugin to extend the processing and reporting of location imports.
Tagalong brings location categorization features to locations.    Businesses with multiple types of locations can allow users to filter the search results based on what segment of the business is being served.   Manufacturers use this feature to show which retail outlets carry specific lines of a product offering.   Medical services mark various providers by their areas of expertise.   Tagalong can also provide custom map markers and per-location icons based on the categories assigned to a location.
Store Locator Plus Change Log
Pro Pack Change Log