Some of my Selenium IDE test scripts make use of the gotoIf command.   Flow control logic like the gotoIf and label statements are not part of the standard Selenium IDE core library.   Like most apps these days, Selenium IDE has a method for extending the base functionality with plugins and core extensions.   The "sideflow" core extension from darenderidder is an extension that provides the oft-referenced goto controls for Selenium IDE.
Adding sideflow Flow Control To Selenium
I like to keep current with any repository updates, so I use git to clone the repository into my documents folder on my Vagrant WP Dev Kit CentOS box.    Using SmartGit I clone via the github URL:
https://github.com/darrenderidder/sideflow.git
Open Selnium IDE, go to the Options menu and select options.  Under the Selenum Core extensions browse to the sideflow.js file that was cloned via git.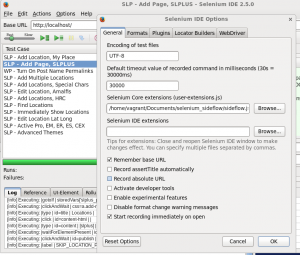 The other option is to just download the sideflow.js file here.   No promises or guarantees this is current or will work on every system.  You should really grab the code from the source.
Example Selenium IDE Script
Here is an example script that uses flow control to ensure only ONE Store Locator Plus locations page is added. If the page already exists it skips the page setup process on my test site.

<tr><td rowspan="1" colspan="3">SLP - Add Page, SLPLUS</td></tr>
</thead><tbody>
<tr>
	<td>setSpeed</td>
	<td>200</td>
	<td></td>
</tr>
<!--Open WP Pages Interface-->
<tr>
	<td>open</td>
	<td>/wp-admin/edit.php?post_type=page</td>
	<td></td>
</tr>
<tr>
	<td>waitForElementPresent</td>
	<td>id=doaction2</td>
	<td></td>
</tr>
<tr>
	<td>storeElementPresent</td>
	<td>xpath=//table[@class='wp-list-table widefat fixed pages']//td[@class='post-title page-title column-title']//a[contains(text(),'Locations')]</td>
	<td>slplus_page_exists</td>
</tr>
<tr>
	<td>gotoIf</td>
	<td>storedVars['slplus_page_exists']</td>
	<td>SKIP_LOCATION_PAGE_CREATION</td>
</tr>
<tr>
	<td>clickAndWait</td>
	<td>css=a.add-new-h2</td>
	<td></td>
</tr>
<tr>
	<td>type</td>
	<td>id=title</td>
	<td>Locations</td>
</tr>
<tr>
	<td>click</td>
	<td>id=content-html</td>
	<td></td>
</tr>
<tr>
	<td>type</td>
	<td>id=content</td>
	<td>[[slplus]]</td>
</tr>
<tr>
	<td>waitForElementPresent</td>
	<td>id=publish</td>
	<td></td>
</tr>
<tr>
	<td>clickAndWait</td>
	<td>id=publish</td>
	<td></td>
</tr>
<tr>
	<td>label</td>
	<td>SKIP_LOCATION_PAGE_CREATION</td>
	<td></td>
</tr>