Premier Members have access to the  prerelease copies of the following plugins as published on the downloads page (you must be logged in with your Premier account to access this page):
Store Locator Plus 4.1.11
Testing begins today.  If all goes well the product will be published on the WordPress Plugin Directory and on this site in the next 24 hours.
* Fix: Fix the help screen hyperlinks.
* Fix: Update the select state list option to show states with no lat/long.
* Fix: Force Load JavaScript now stays checked when changing other map options.
* Fix: Force mime type to on files ending with .csv to text/csv.
* Fix: Update WooMemorable theme to handle the Tagalong CSS cascade feature.
* Fix: Pagination in Locations/Manage next page and page numbers retain search filters.
* Enhancement: Update the data interface engine to work with WordPress 3.9 prepare statement updates.
* Enhancement: New Twenty Fourteen Rev 01 Advanced Theme that better fits with the WP Twenty Fourteen theme.
* Enhancement: Added Portuguese Brazil translation.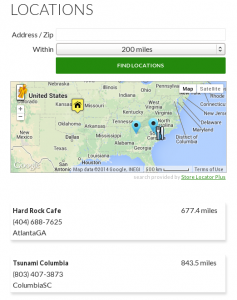 Social Media Extender 4.1.004
Social Media Extender is a new add-on pack being produced by DeBaat, the same author that created User Managed Locations.    The new add-on pack makes it easy to add social media links to the Store Locator Plus locations.    It is a two-part system that includes a "social media manager" that allows you to add a variety of social media sites.  It starts pre-loaded with Facebook and Twitter as the two base social platforms.    The other part of the system is the location editor interface which allows location-specific URLs to be added so each location can link to its own social media page.
A product page and documentation page will be published on this site over the next 24-48 hours.
We are working on a minor patch and the documentation.  As soon as we finish both, hopefully within 48 hours or less, the new Social Media Extender will be available to the general public.  You can get  a prerelease copy via the Downloads page.