Store Locator Plus Enhanced Search 4.2.02 is out.  The latest update is built on the Store Locator Plus 4.2 add-on framework for better performance and consistency.   In addition there are several new features available in Enhanced Search 4.2.
Several New Shortcode Attributes
You can now specify city, country, or state selector styles using a shortcode attribute.
Use [[slplus city_selector="discrete"]], [[slplus city_selector="hidden"]], or [[slplus city_selector="input"]] to choose a specific city selector on the map page. You can do the same for state_selector or country_selector.
You can also specify a specific city, state, or country to search for by using the city="city name", state="state name", or country="country name" attributes on the SLPLUS shortcode.
Hide Address Input
Hide Address Input functionality has been restored.  It can be set globally under the User Experience tab or with the shortcode attributes
Hide Search Form Improved
The Hide Search Form option has been improved, working to hide search from elements from other add-on packs.
Pass Address By URL Improved
The pass address by URL feature has been improved.   The map will be forced into immediate results mode and the location sensor for the Pro Pack will be disabled when the locator page is accessed with a URL with the address parameter included.
New Radius Functionality
A new radius  behavior option determines how the radius entry on the search form is processed.   This takes the place of the "ignore radius" option.   The 3 values are Always Use, Always Ignore, and Ignore If Radius Empty.    Always use is the default mode where the address selected on the radius drop down will be the radius used when a site visitor searches for locations.   Always Ignore will not use the radius when performing a search.
The last option, Ignore If Radius Empty, is the new operating mode.   If a user does not type in an address then all locations are returned.   This is best used when using a discrete country, city, or state selector as those elements can filter the list of results to be everything in a specific country, city, or state.     In this mode if a user enters an address the selected radius is used to show locations within that distance from their entered address.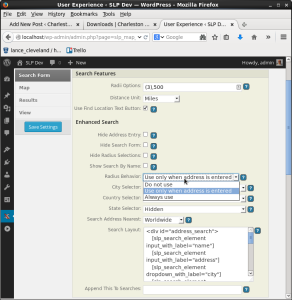 Enhanced Search Details