It is a beautiful fall day in Charleston, SC, but the Store Locator Plus author and Premier developer has been hard at work conjuring up some cool new features for the Tagalong add-on pack with Premier.
Tagalong version 4.3.01
The latest update to Tagalong includes a new feature that enable different styles for category filters on the User Interface. The Single Parent style has been added as a setting under the "Show categories on Search" Tagalong settings.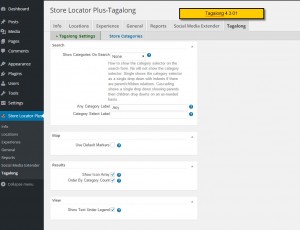 Premier 4.3.04 release feature for October
Exclusive to Premier subscribers , the ability to combine Parent/child drop down menus on the same search form with multiple combinations of queries available, thus allowing the user to fine tune their search on your site. Example: Looking for a store that sells both apples and oranges but you want to see what types of apples (Macintosh,Fuji,Gala,Red delicious) and/or what types of oranges (Valencia,mandarin,etc), this option is now available when you have Premier and Tagalong installed and activated. You may opt to have the auto-submit function, also included in Premier 4.3.04. Create any parent/child combination using the Tagalong category manager and filters, determine if you want the "one click submit" for the user by choosing the drop-down auto-submit available as a Premier Search feature, save settings, and see the results. For a detailed look at these enhancements please watch the developers 3 minute video. The video and other useful tips and how-to's are added to the Documentation video playlist for quick reference.
Last but not least, the Base Store Locator Plus plug-in update 4.3.14 fixed a bug within the blank map style, and added a new range of settings for zoom adjustments (now -10 to 19) and zoom level (now zero is once again an option) under the Map functions. This should improve the user experience and allow for a wide range of zoom settings.
Thank you to our Store Locator Plus Forum members for identifying these issues. Please be sure to follow the posting guidelines and provide your plugin environment and store or map site url for better results.
Change Log for SLP