"NewtonsPrincipia". Licensed under CC BY-SA 2.0 via Wikimedia Commons.
PAGES
We have seen a lot of posts in the forum about (Store) Pages being broken. There were two main ingredients that impacted this and they have been fixed in Pages 4.3.01, currently in pre-release status and available for download. Please note that this is stable but considered as in test status. You can find it in your account under download pre-releases to be tested on your dev site or test site.
If you cannot wait and want to test on your production site, please, as always, FIRST back-up your production site and save your settings in another location.
Store Locator Plus 4.3.13 is also in pre-release. You will need to update both for the below patches to take effect. As mentioned, testing has passed on SLP's test sites and are considered stable. Given the fact that there are a lot of combinations of other plug-ins, themes, WP versions that could effect how it works on your site, SLP would appreciate anyone in the SLP community to also test and report back by email or in the forums.
The Major Issues that were reported in Pages 4.3
Issue #1: Check boxes on the Pages Tab, such as "Pages replace websites" was not saving. This has been fixed with 4.3.12 and Pages 4.3.01.
Issue #2: Page Templates were not working the way they used to. The fix for this is a little more complicated and requires some work on the administrators part. Most people will need their templates to be replaced.  The process is simple ​*if*​ people are using  or want-to-use the default page template.  The default values under Initial Page Features /Pages / Page Template… just delete/erase it so it is blank, save settings, and the default settings should fill in and  now replace what was there earlier. Next step once the page template is set back to default, go to Locations/Manage and look for "Create/recreate Pages" under the bulk actions menu. Yes, you need to check off the boxes for all locations to recreate the page.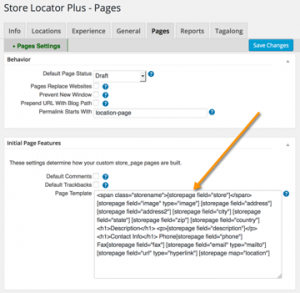 The Explanation
The why behind the new Page Template Layout: The OLD SLP default page template used a combination of standard HTML + shortcodes. That USED TO WORK in the older versions of WordPress. WordPress changed and no longer allow this dichotomy in the plugins. In other words the old page template had lots of HTML and divs like this … [[a href=""mailto:[storepage">…blah…]]
That completely breaks in WordPress 4.3 (actually we believe it was earlier but wasnt apparent until we updated to 4.3 to follow suit)
That is all related to the posts from CiCi about WP 4.2.3 released in July that "WP update Fixed" – If the shortcode content contains HTML code, the TinyMCE View no longer works. #32078 The WP update also effected the Google Maps in iframe (not part of the default template but many people did this as a custom template).
Technical Geek stuff
Blame this on me, I asked and Lance answered.
"How does Store Pages + the Page Template work?"
Pages automatically creates a ton of custom pages on your WordPress site.
It does this by reading each location you put in the locations table and saying "hey, I'm gonna make a page for this".
That can happen either by having Pages installed and having it auto-create pages on the fly (which it does by default) whenever you import or add a location. OR you can make this happen by going to the locations on Manage Locations and doing the "Create Pages" bulk action (or clicking the create page action icon on each location).
"How does it create a page?"
The code loads in that text in the Page Template setting (the picture above) and pretends to be a user/administrator that chose 'create store page" under the admin menu, then typed in the stuff in the page template into the content of the page. i.e., a robot typist for you.
However, this robot also does a little "special magic" and scribbles a note in the location data for Store Locator Plus that says "hey, this page I just created it linked to location # X".
That last part is important… because if a HUMAN actually goes in to Pages in the admin menu and clicks "create page" they usually don't scribble down that note on the location data and their manually created page just doesn't work right.
In the meantime, for those people who create their own custom templates, they need to edit the Page Template according to "good WordPress shortcode rules" as they now stand, go to Locations/Manage and create their store pages from the bulk actions there.