Version 4.2.10 of the Store Locator Plus plugin for WordPress was released today.
The recent update adds settings to enable Google Maps for Work clients to use their client ID to enable their access to the Google Enterprise servers.  For clients that have purchased the annual license from Google the new settings will provide access to the higher throughput services provided by Google.  The enterprise-level services includes up to 100,000 geocoding requests per day on a high throughput communication channel.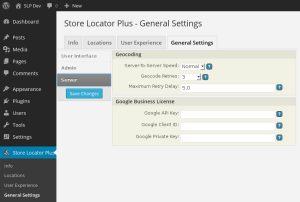 Charleston Software Associates is the first, and possibly the only, Google OEM License plugin for WordPress.   New services are in development that will allow any Store Locator Plus customer to purchase higher-limit blocks of geocoding services directly from CSA via the Pro Pack add-on.   The new pre-request service is scheduled to be launched by January 2015 if production schedules remain on track.
The 4.2.10 includes a fix to the geocoding service which now utilizes the map domain setting under the User Experience / Map tab to request geolocation info from Google.
A patch to the SLP 4.2 add-on pack framework fixes a bug that caused excess memory consumption.
Version 4.2.10 will now show not only installed versions of your add-on packs under the Info / Plugin Environment tab but will also report any newer versions of add-on packs that may be available from the CSA servers.   Accurate upgrade reporting will require the add-on packs having already been upgraded to version 4.2, making this feature more useful for forthcoming upgrades.    The new feature does not rely on the built-in WordPress upgrade testing process which does not always query third party servers in an efficient manner and often misses update notifications.
Store Locator Plus Change Log