For years I've been buying mid-cost monitors
for my business and for my personal use.   They are not the cheapest monitors, but they are definitely in the "cost conscious" category when it comes to monitors.   My typical "pain point" is the $250 mark.    Since I like to buy my monitors "paired" so I can use a dual monitor setup I don't like to get to far over that range.  If possible I like to be under $200 for something with good resolution.   I don't worry too much about color both because I'm not a graphic designer and because I am color blind (yes, I can see color, but not ALL colors).   So I look for something high resolution and fairly big.     I try to get something with good customer reviews but tend to shy away from the "editor's choice" or "top rated" monitors mostly because they ignore my $250 rule.  A few things have changed over the past year that has also changed my thinking about monitors.
First, as a work-at-home dad I am now spending all my computer time on the SAME set of monitors.  I am no longer going from a set of monitors at home to a set of monitors at work.   That for the hours I am on a computer they are always spent viewing the same screen.    That also means buying 2 monitors instead of 4.    In theory I should be comfortable with spending $500/monitor, but after more than a decade of training myself to never look above $250 it is a hard habit to break.
Second, after closing my last business and deciding to spend more time with family in between hacking WordPress plugins for a living, I hoarded a bunch of computer equipment I was interested in after the business closed.  That included a bunch of monitors (all my friends and family got upgrades, side bonus of closing a 12-person office).   I ended up with a 3-way monitor setup  as my daily setup.   To be honest I originally started with 4 monitors but my video card in the HP Envy 17 could not handle it and the desktop computer put out way too much heat.    I also couldn't see that much real-estate with two 27-inch, a 25-inch, and a 24-inch monitor.    It also just looked ugly as the resolution was the same but pixels sizes varied widely.     But I did learn one thing, for a coder the 3-way monitor is absolutely the most efficient setup you can have.     While EVERYONE, other than the casual home user, benefits greatly from a dual-monitor setup, coders have a unique environment in which three monitors is the magic number.     There are a lot of blog articles that tend to agree with this assessment.  If you code for a living, try it and you'll see what I mean.
Third, as I get older I find that along with everything else, my eyes can't keep up.   I need to take breaks from being in front of the computer screen more often and my eyes are "tired" after much shorter sessions of staring down the code as I try to bend it to do my bidding.
Time For An Investment
After a month of "thinking about it", doing research on all kinds of monitors, thinking about it some more, deciding I wanted three 24 or 25″ monitors (27″ is just far too spread out to keep everything "in my field of vision"), and then waiting/wanting/hoping the monitor I had selected would come down in price… I finally did it.  I bit the bullet and bought a higher end monitor that was a good bit outside of my $250 price point.   After selecting what I felt would be the right monitor for me, I went price shopping.    I found the best price after shipping to be at ProVantage (which, was true 2 days ago… as I edited this article to put the links in place the price has jumped by to $457.26 from $342.29…33% price increase in 24 hours!) .   Any time I need to get business class computer equipment that is restricted from consumer channels (like Amazon or Best Buy) I end up at ProVantage more often than not.  I've used them many times before and trust them, though they often lose out on the Amazon Prime products thanks to the shipping differential.  In this case Amazon Prime does not carry the monitor I selected, though they have other vendors with free shipping that DO carry the monitor (and are now LESS costly than ProVantage).
So I spent $350 for a monitor and decided to give it a try.     If the monitor really was the much better than ALL of the 6 other monitors I have in my household, 3 different ones on my desk alone, I would go "all in" and purchase the other 2 to round out the "pairing" or "tripling" as the case may be.
Was It Worth It?
Well, lets just say that less than 3 hours after getting my new monitor setup I ordered the other 2 monitors.   So yes, definitely worth it.  But why?
Some of the deciding factors are definitely due to the feature set of the monitor.   These features can be found on consumer grade and home monitors.    However finding the combination of ALL these things is rare, as I discovered in the month of research before making a decision.     However the PRIMARY deciding factor was the overall clarity of the monitor.     Both surfing the web and  reviewing code text was instantly clearer and more legible on the new monitor.    All 3 monitors on my desk are HP models.   They are 25″, 24″ (the new one), and 27″.   None are "low end" but tow are considered high-end and some of the best monitors for consumer use over the past 2 years.

What factors made me decide to swap all 3 monitors to the new one?
Text is easier to read.

Contrast is better, the difference between the light and dark tones is less "muddied".
The new screen is 1900×1200 (16:10) versus 1920×1080 (16:9)… that extra 120 pixels is 3+ full lines of extra code in the same space and I really prefer the taller v. wider format.
The screen has 4 built-in USB ports which means I can eliminate by USB hub = 1 less device + 1 less power cord.
The stand rotates, tilts (a lot), and has a a great vertical adjustment.   I didn't realize how much I missed the ability to make the monitor "tall" and get it properly in my line of site without using boxes or stands.
The monitor has DVI, HDMI, and DisplayPort options.  The DisplayPort means one less adapter to deal with.
The bezel is a matte finish v. high gloss.   This makes a BIG difference, surprisingly more than I thought.
The monitor has a very light anti-glare coating versus the "oooohhhh SHINY like Apple" screen which looks great when it is off or in a dark room but otherwise makes a great mirror.
Did I mention text is easier to read?   A LOT easier.
Granted some of these features can be found on other monitors, but ALL the features in one place?  Not so much.    In addition there are some other features I like that didn't push me to the decision but I still like the thought such as the down-facing connections so I can get the monitor tight to the wall if I decide to mount it like the old monitor (going with a 3-way stand for now).   The neck of the monitor has a pop-out plate for routing cables THROUGH the neck, keeping them neatly corralled near the base of the monitor.    The control buttons are right on the front of the bezel, while behind-the-bezel buttons look cleaner it is a major PITA for the one time you need to adjust something and cannot find the buttons… really for a work computer I don't care and don't even see those 4 small buttons on the front while I'm working.     The stand attaches and DETACHES with the best neck-to-monitor system I've seen yet.  It snaps in place and a push of a button releases it for when you want/need to attach your wall mount or tri-stand when they arrive 6 hours after the monitor did… which you had to open right to play with and thus attach the neck even though you knew more parts were coming.
So What Did I Get?
My final choice was the 24″ HP ZR2440w.    Below are a couple of pics that show the difference between this monitor and the HP2509M when viewing text.   Besides the moire patterns inherent in non-synced digital imaging of displays, you can also see a distinct difference in contrast and clarity.  Using a digital camera highlights the difference more than is perceptible to the naked eye, but as my code-geek buddy Rob said as soon as he saw the ZR2440 today… "Holy Crap!  I can even see that text from here without my glasses on."    That is saying something as the monitor is a 24″ versus the 25″ and 27″ it sits beside.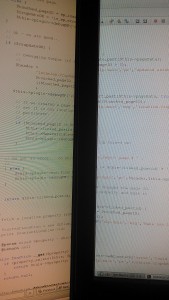 The other picture is of the monitor itself with camera flash on versus the HP2711x monitor.    Both the HP2509M and HP2711x are designed as "look pretty on the shelf in the retail showroom" and "look nice when watching Blu-Ray DVDs in a dark room".   They do look great if you play games & use the monitors for home theater in controlled lighting conditions.  But during a normal work day with daylight coming in a window and nothing-but code and base graphics on the screen the  ZR2440w blows them away.   No contest.    You can see how big a difference the little bit of anti-glare makes versus the consumer monitors.   Every light source reflects, whether you notice it or not, on the "oooohhhh sooooo shiny and Apple-like" monitors.  That is NOT a good thing for coding as all those light sources are competing for attention when you are looking at the screen.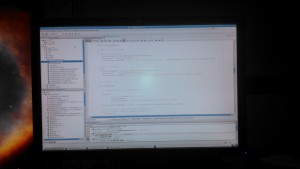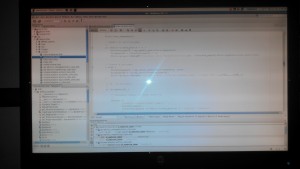 I had considered a few others but the reviews, features, and pricing all came together for me with this monitor.    I wanted 24″ or 25″ for the triple setup.   I wanted VESA mounts so I take up less desk space with stands.  I have a wall arm that takes ZERO desk space and LOVE IT, so the triple stand with a single footprint may work but I feel I'll be doing 3 swing arms soon.   I also wanted native DisplayPort and HDMI connections for my HP Envy 17.   That is because the laptop can drive 2 DisplayPort monitors AND an HDMI monitor at full resolution and full refresh rate.  If you use adapters on the DisplayPort connections and drive 3 monitors weird things can happen to the refresh rate or resolution.
So 24/25″, Vesa mount, and DisplayPort + HDMI connectors limited the marked to surprisingly few monitor choices.    A Dell monitor was in the mix and some lesser-known off-shore brands that had good reviews.  Maybe the off-shore would have worked but I've learned to go with quality brands you know.
In the end the HP ZR2440w turns out to have been a great choice.     Sadly so, possibly.    Now that I've spoiled myself with this level of display I doubt I'll ever go back to anything less.  In fact I'm wondering how much nicer the $1200 displays I was briefly contemplating really look with all that color perfection.     Good thing I'm color blind and can talk myself out of those options!