I am in the midst of training and evaluating people that are interested in working on the Store Locator Plus code projects.   Some people are veteran coders.  Others are learning coding in a team environment for the first time.    Here are some basic guidelines on using git when working on the CSA codebase that can be useful if you are using git version control for any team project.
Use Descriptive Commit Messages
Your commits messages should be descriptive at least 99% of the time.   These are not good commit messages:
When the team or project lead goes to integrate your code with the work everyone else has contributed they should have some clue what each commit was doing.     A single word is NEVER a good commit message.   At the very least you should almost always be using a noun and a verb in a commit message.   Debug actions would be at least a little better than "debug".   Better yet, us a short sentence.
Create Separate Debugging Branches
Since we are on the topic of debug commits, they should rarely be in  your "mainline" branch of code.  Yes debugging happens.    Yes, they often end up in a series of commits on a code branch especially when working on a complex piece of code.  However if you start out with a cycle of coding where you know "I'm going to do a lot of debugging to figure out what is going on here" then it is almost always a good idea to start by creating a new "debug_this_whacky_thing" branch and dumping all your "code barf" in there until you figure things out.
When you do, go back to the "real_work" branch and check that out and put the valuable pieces of code from your learned lessons in that branch.
If you manage to stumble across a useful piece of code on your "testing_stuff" branch you can always add it on to your "real_work" branch with something called "cherry picking".    That is a git command and in
SmartGit
is simple to execute.  Checkout the real_work branch, then go select the one or two commits that did something useful from the debugging_code_barf branch and "cherry pick" them.
Commit Often
Small frequent commits are better with just about any version control system and ESPECIALLY when using git.   It tends to create fewer code conflicts during a merge.     This does not mean committing every single line of code on a per-commit basis.   However you should commit every time you write code that changed something and are at a "stopping point".    Typically this is at the point of "ok I am going to test this now and see if it does what I expected".    Often it is best to do a "dry run" and make sure there are no blatant errors such as syntax errors before committing.     Try to commit unbroken, if not functional, code.    In other words it should not crash whatever you are working on with an immediate and obvious "your forgot a curly bracket" error.
Use Branches
Like the debugging branch noted above, any time you start a new concept, path,  model, design, or feature start a new branch.   Try to work from a root point, such as the last major release of a product or the last tested-to-be-working version of the software.    Unless your new concept requires the code of a prior effort going back to the root "last working base copy we published" is a good starting point.    The project or team lead will merge code into a prerelease or production (master) branch or an integration branch to create a new product release version.
If you have done work on several feature branches that are not dependent on each other but work better together, create your own integration branch.   "my_super_pack" branch can be a merge-commit of your "feature_a", "super_awesome_feature", and "feature_b" branches.
CSA Branch Standards
At CSA I like to use a 3-branch methodology for managing projects.    The branches are master, prerelease, and integration. All 3 branches are only aligned when a new production version is released and there is no ongoing development on the project.
master – always points to the latest production release available to the general public.   This is where the current commit pointer ends up after integration and prerelease phases are complete and the production scripts are executed.  This branch is always tagged with the current production release number.  Developers only start new branches here if a prerelease branch does not exist.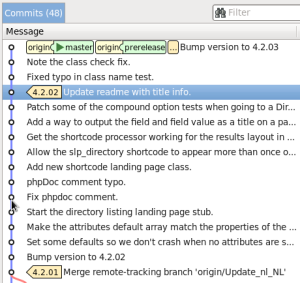 prerelease
– always points to the latest release of the software that was published to the public in prerelease format.  Prerelease software is not fully tested, though usually has passed the rudimentary functional testing.  this is considered the "beta" version of the next master release.  All
CSA Premier Members
and beta test groups are given access to prerelease software.    This branch is always tagged with the current software version number, which is bumped if further changes are needed before "going to production".   Developers almost always start new branches here.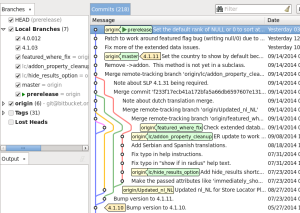 integration – this branch points to the current integration branch used by the project manager to pull together developer commits in preparation for conflict resolution and rudimentary software testing prior to being given an official "prerelease" stamp.  This is the release used for internal testing and development and should be considered unstable.    Developers rarely start new code branches on this branch.