The Event Location Manager add-on for Store Locator Plus is now available form the Store Locator Plus website.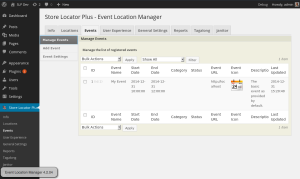 Event Location Manager, another great add-on created by DeBaat, provides a new interface in the WordPress admin panel for creating time-based events.  The event manager provides an interface to set the event name, start and end dates, an event category and status, a web link for the event, a description, and an event-specific icon complete with a set of new Event Location Manager icons.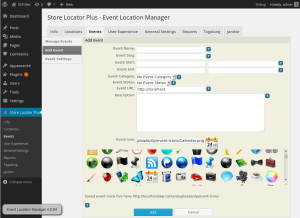 The Event Location Manager settings provide an easy mechanism for adding event search capabilities to the locator map interface.   Visitors to your site can search for events by name, select them from a drop down list of active events, filter by category or status.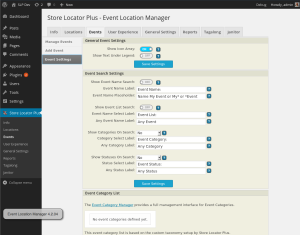 Event categories and status codes are managed as a separate Event Location Manager specific taxonomies within WordPress, giving you standard category management and controls.
Premier members can download the new add-on as part of their standard subscription.   All other Store Locator Plus customers can purchase Event Location Manager as a true WordPress add-on, no deactivation or uninstall of existing plugins is required, to add date-and-time based events to their locator feature set.
[box type="note" style="rounded"]Using Store Locator Plus? Please rate my plugin. Every review helps![/box]
Event Location Manager Changelog