Environment
HP Envy 17-3070NR with latest video drivers & BIOS
3x HP ZR2440w Monitors attached, 2 on display port, 1 on HDMI
Problem
Any time I access ANYTHING to do with recording, such as going to the windows sounds interface and clicking on the recording tab, the screen on ONE of the Display Ports flickers to the point of being unusable.
It shows flashing thin 1 or 2- pixels white lines in random patterns on the screen, then the entire display shuts off.  It turns back on and looks fine for 2 seconds, then does it again until I click on the Playback, Sounds, or Communications tab.  This happens with ANY access to "recording" from any app including my Skype call recorder or my Screencast recorder.
This did not happen before I upgraded to the 1920×1200 ZR2440w monitors, which I did after confirming with HP support that the Envy 17-3070NR would indeed support 1920×1200 resolution if I used display port connections.
The problem continues if I swap monitors, so it is not a monitor issue.
The problem continues if I disconnect/disable the 3rd monitor on HDMI, in fact the cycle happens even faster with that display disconnected.
This looks very much like an old-school video memory corruption issue like you would have back in 1996 on  a Windows XP computer with crappy video cards and/or poorly written video drivers.      If I had to guess I would say BIOS and/or AMD drivers need work.
Has any else seen this problem?
Any clues how to fix this besides "don't use 3 monitors" or "don't record screen casts"?
Customer Non-Support
The best part is that I am entitled to email or chat or phone support from HP with my extended warranty.  Yet HP completely fails in that regard.    First of all the website the checks to see if you are entitled for support looks up my serial number and product number, shows the right product in the sidebar yet the customer support form only allows for PRINTER options on describing what is wrong.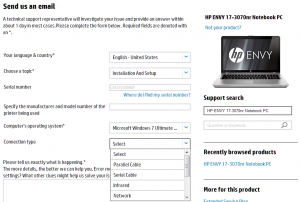 HP needs to hire some programmers.
HP Fails At Selling Customer Care Packs
Then, to make things more fun, when I contact HP directly they tell me I do not have a warranty.   I have a dozen emails back & forth from HP stating I DO have a warranty for 3 years.    I can understand why they are confused, however, since THREE HP employees over the past year have screwed up my extended warranty so badly that nobody can figure out what the hell is going on.  Not even their escalation team.
The first person sold me the wrong warranty.
The second person "fixed" the warranty and attached a DIFFERENT, but still incorrect, extended warranty.
The third person, in the HP Escalation Division, fixed the problem again but did not properly attach the extended warranty to my serial number so nobody can find it.
Unfortunately there is no online form or interface available to the mundane every day HP Customer Support people that allows them to "enter the personal email sent from an HP manager ensuring the customer has an extended warranty" box.    Since my case falls completely outside of their scripted responses they are completely baffled.     Customer Support lemmings are not trained to think, just click the boxes, recite the words on the screen like Obama reading a teleprompter, and move on.  No thought required.    Come to think of it, maybe HP is training everyone to be the next POTUS.