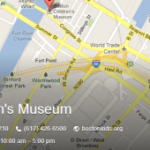 Enhanced Map 0.6
I just released Enhanced Map 0.6 tonight.   If fixes a bug with compatibility with Store Locator Plus 3.9.6 as well as the hide map admin setting and shortcode plus the show/hide map toggle button.   I thought I had pushed this out Friday night but I must have screwed something up.  It happens.    The updated plugin should be available now, though I'm still not quite sure what happened the other day and why 0.6 did not publish correctly.  Hopefully tonight's effort fixes the problem
Home Page
If you've been to the Charleston Software associates site today you've seen the home page tweaks.   Don't worry there are not major changes to the site or content that has gone missing.  I decided to simplify the home page for new visitors so they can easily find the Store Locator Plus or MoneyPress plugin information.    Since 99% of the visitors to the home page are looking for Store Locator Plus I figured less clutter would serve them better.    Funny thing is that I now find myself clicking on the "Forums" icon on the home page as it is far faster than finding it on the drop down menu, so I guess that's a good UI change.    Then again, I'm not a user experience (UX) expert, not even close… so maybe its just me.
Away From Keyboard (AFK)
I will be away from the keyboard more than normal over the next 10 days.   I am preparing for a visit back to my home town of Boston next week to visit family.    Support responses and patches will be much slower than normal while I prepare for the trip.  Part of the preparation is getting another technology patent filed before I head out of town.   If you'v ever done a provisional or formal patent you know how much work I've got to do in a few short days.
I'll still review the forums and post some code when I can but it will be at a much slower pace through the end of the month.