Tagalong, the category management add-on pack for Store Locator Plus, was updated today with several improvements. The improvements will help with the management of location categories on sites with large numbers of locations.
CSV Export Improvements
CSV Exports from Pro Pack now export the plain text category not the category slug for easier import/export.   Prior releases exported the category slug.  This made it easy to validate location data against the WordPress taxonomy table but made for more work when re-importing to a new site.   The new CSV export puts the plain text name in the category column and a new column "category slug", that is not imported on a CSV import,  holds the category slug for users that wish to perform cross-check validation against the taxonomy data.
Location Results Order Improvement
The sort order for locations now uses an intelligent array which presents a more consistent and stable operation with multiple add-on packs in place.  Tagalong now leverages this new array, which appeared in Store Locator Plus 4.2.31, for better sort order processing for Tagalong category sorting.
JSON (AJAX) Response Updates
The category_count and category_names are now part of JSONP response coming back from the server.   This provides mechanisms for website developers to display category data or to leverage that information in custom JavaScript processors that manage the results of the search.  For example, the shortcode [[slp_location category_count]] can be used to show the count of categories for a store within the Enhanced Results Results Layout setting or [[slp_location category_names]] can be used to show the list of category names.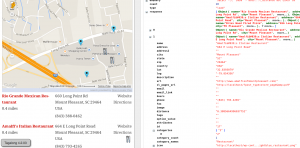 Location Manager Filter Fix
The filter locations by category on the manage locations interface has been fixed.   You can once again filter the locations by selecting categories via the filter dialogue box.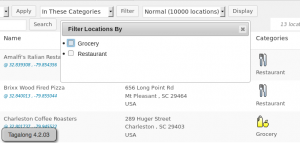 Tagalong Change Log