I've been working mostly on support issues and paid customization work the past few days, in addition to trying to do some system admin on my own servers.  You can read about those trials & tribulations on my other blog posts.  This post is about product progress and some operational notes related to Store Locator Plus.
Enhanced Map
I am working on an update to Enhanced Map that will add a couple of new features that I hope to release next week.  The primary feature that some people will be interested in is the ability to set an individual map marker on a PER LOCATION basis.    Immediately prior to the release of Enhanced Map with this feature there will be a price increase.   If you are interested in this feature and don't yet own Enhanced Map, you may want to buy the add-on now.    For now upgrades are free, which may not be the case in the not-so-distant future.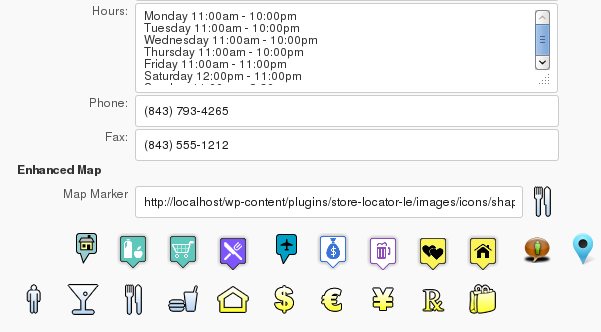 W3 Total Cache and Store Locator Plus
If you read the blog you will note that I have recently been playing with site cache and PHP cache tools.    One of the tools I've started playing with is W3 Total Cache.    By mere coincidence, one of the support requests related to Store Locator Plus is for a client using W3 Total Cache.
After installing the latest version of Store Locator Plus 3.10.3 that included several patches that I KNEW would fix an issue on the site, I found that some of my test systems would NOT load the results below the map.  Instead I was seeing an "UNDEFINED" message in the results on Chrome and IE.
As it turned out, W3 Total Cache was caching the JavaScript on the site.   Even though JavaScript minify was not enabled the page cache WAS enabled.    Apparently a plugin upgrade is not enough to flush the W3 Total Cache page entries.    If you are using W3 Total Cache you will want to flush your Store Locator Plus related pages, if not the entire page cache for your site, whenever you upgrade the plugin.
Speaking Of Upgrades
After a lot of review and some support dialogue with the folks at WooThemes,  there is a good chance I will not be doing the crowd funding or Enterprise Subscription programs any time soon.  Not only is the Woo site broken in many areas related to the Codex, there was a very clear response from the WooThemes support guys that they are not support third party development nor listing any third party plugins any time soon.   That issue combined with the fact that there are a LOT of patches, tweaks, and adjustments I've had to make to get the WooCommerce system working well on my site means I will likely be changing store software soon.
Easy Digital Downloads (EDD) looks promising.  I'm waiting for some feedback from them about the Enterprise Subscriptions and third party development of add-on packs, but thus far it looks like they are a lot more focused and more open to outside influence… sort of how Woo started out.   They also actually have an updated Codex, similar to what I've done here. EDD may be a good fit for Charleston Software Associates.