Store Locator Plus 4.2.01 is entering final testing this week.   The latest patch adds more built-in support for add-on packs which will allow for a lighter footprint for any add-on packs using SLP 4.2 base classes.   This change should have little impact on users of Store Locator Plus but paves the way for "lighter" and more consistent add-on pack experiences.
Store Locator Plus 4.2 has been fully tested with the latest release of WordPress 4.0 which is currently thought to be the last update to WordPress before 4.0 enters final release in the next few weeks.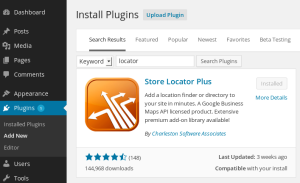 Better Add Ons With 4.2
The following add-on packs will be released shortly after Store Locator Plus 4.2 is published and take full advantage of the Store Locator Plus 4.2 add-on system:
A new add-on pack that makes it easy to build directory listings from the locator data.   The initial release provides a short code that builds live lists of locator properties such as cities, states, and counties.  The list can be linked to any locator page.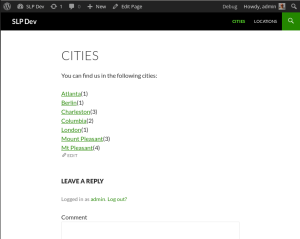 Location Extender is another new add-on pack based on the Store Locator Plus 4.2 add-on system.    This add-on pack adds a half-dozen new fields to the Store Locator Plus location data.    Intro text, year established, county, region, district, and territory are among the new fields that have been added.   Output those fields using Store Pages templates or Enhanced Results results layout customization.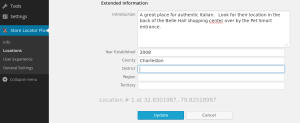 Pro Pack has been updated to use the new Store Locator Plus 4.2 add-on system.   The changes reduce the memory and disk footprint of the plugin and will provide a more consistent experience.    Pro Pack 4.2 has an updated reports interface that eliminates the custom reporting page.  This will make it easier to add features and extend the reporting system for Pro Pack in future releases.    A new CSV import option that loads CSV files from remote FTP and HTTP sources is expected to be available for the Pro Pack 4.2 release.
Premier Subscriptions
Store Locator Plus 4.2.01 and the add-on packs are available to Premier Subscription members in prerelease format on the downloads page.     General public releases are expected in the next 10 days or less.
If you do not have a Premier Subscription and are contemplating getting on that program you may want to do so now.  Once the new add-on packs are released prices will be going up for Premier Subscription members.   Lock in your pricing now and get all future add-on packs, access to prerelease software, and access to the Premier forum for faster support responses.    Subscriptions can be cancelled without impacting already-downloaded/already-installed add-on packs.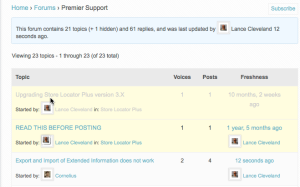 Store Locator Plus Details