User Managed Locations by DeBAAT allows you to manage which of the registered users has access to the manage store locations page. Users who have been granted access can only manage the locations assigned to them.
The User Managed Locations Tab works with Store Locator Plus 4  (4.1.05 or higher) and Pro Pack or the Power Add-on.  The  two side panels  are  "User Manager" and  "Settings" location editor interface.
The User Manager panel allows you to manage users  access to roles and capabilities by location or store.    By default, a newly added user is allowed full access.  Individual settings can be selected per user  login name (first column) using the hover feature to highlight the action" allow" or "disallow".   Settings for multiple  users can be applied in  the bulk action pull-down menu.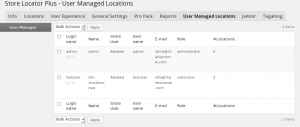 The Settings panel establishes the User Rights. The publish location immediately radio button selection is "on" or "off". This functionality allows the administrator control. When enabled a newly entered location is published immediately. When disabled, the geocode of a newly entered location is removed to block publishing. This needs the re-geocoding functionality of Pro Pack to publish blocked locations.
Additional Actions under SLP Locations Tab
The pull down menu under Bulk Actions will be different depending on the roles and capabilities, i.e. admin users and allowed users.
Location Manager for Admin users
Admin users have access to all Store Locator Plus tabs and screens to manage the settings as normal. The location editor interface is extended to show the name of the assigned user. This name can be changed by the admin user.
[box type="note"]Please note that the login name of the user is used, this is the name as shown in the first column of the User Manager list table.[/box]
Location Manager for Allowed users
Allowed users only have access to the location editor interface. Each allowed user can get to the location editor via the admin menu entry for Store Locator Plus. The other tabs in the Store Locator Plus managed screen are not accessible. The location editor itself allows the user to add new locations and manage the existing locations. If the publication rights have been revoked, the lat/long information is removed whenever a new location is added or when an existing location is altered. The new or changed information will only be visible when the lat/long is (re)set by the admin user.
Location Manager for Disallowed users
Disallowed users have no access to any of the Store Locator Plus screens. When they log on, the Store Locator Plus entry is removed from the admin interface.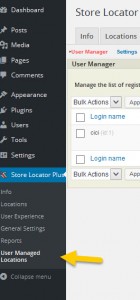 [button link="/user-managed-locations-updated/" color="purple"]Read More[/button]