Events Manager is a  premium add-on for Store Locator Plus that allows you to connect time-based events to locations and search for events from the Store Locator Plus search form.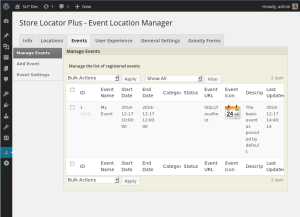 In the "Events" management screen, you can add and edit events in the same manner as you would manage the locations (and social media and users for that matter).
In the location add/edit screen, there is a text field for all events registered.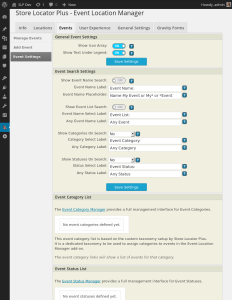 I could think of a ELM Setting where the status values can be used to filter that list to certain values only.
The content of the text field for each event is not used at the moment. It is tested on being not empty to indicate whether or not that location is related to the event. I could imagine that the text entered can be used as a tooltip for the event icon on the map.
In the ELM Settings, you have some management options, e.g. to determine how to filter on event related values. The map shows the correct event icon for each location associated with that event.
The map can also show a legend, if the placeholder is defined in the shortcode settings.