Today, as I put another spreadsheet with Store Locator Plus and Enhanced Results features onto Google Drive, I realized something.   If Google Drive crashes, very unlikely but stranger things have happened, I don't have a backup copy of ANY of my Google Drive documents.  There are a lot of things I have out there that I really don't want to re-create.   It is even more important now that I am using Google Drive to store spreadsheets that are an integral part of my WordPress plugin documentation.
While I'm thinking of it, let's go down that road for a moment.
Using Google for WordPress Tables
A few days ago I wanted to start building an "add on pack comparison" to the site.   It helps me organize my thoughts on what features belong in which plugins, reminds me of where I put those features, and also educates the consumer on what plugin they may be interested in.    I decided a wide table with side-by-side columns for each plugin was the best option.   Since it is not a true price comparison I needed a flexible grid display.
I tried a number of table plugins that are out there in the WordPress extensions directory.   Unfortunately a large number of those plugins were defunct, many not updated in years.   The few that were updated were adequate but too hard to man-handle to look  just the way I wanted, requiring extensive CSS updates and HTML man-handling to behave as I desired.  Sure, some of those, like TablePress, had options to make those efforts easier but still not effortless.
Then I stumbled across a post that discussed inserting a Google spreadsheet in the middle of a page.   You create a spreadsheet, format it how you like, and then publish to web.   Select the "embed code" and get the unique iframe tag to put on your site.  While I was leary of the iframe idea, it worked beautifully.   Now I can format the colors, fonts, and column data exactly how I want with the ease of updating the Google spreadsheet.  It is far easier to click a cell and the color box and see the background change than tweak CSS all day.
If you are trying to put tables in WordPress you may want to check that out.     Create the spreadsheet in Google, go to "publish to web", publish, go to "get embed code", copy the iframe HTML snippet, and paste into your page or post (in text mode).   Tweak the width and height parameter to fit your site.  Done.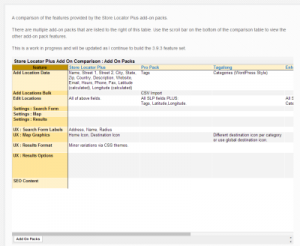 Check off "auto-republish" and every time you make a change it will reflect on the website within a few hours (or you can force a manual republish if you need if faster).
Nice.
Backing Up Google Drive
So back to the backup issue.   I have a lot of doc, some integral to my public site, on Google Drive.   I NEED to back those up.    How did I do it?  Turns out easier than I thought.
First, I run CrashPlan as my backup service.  MUCH better than Mozy which is over-priced, IMO.   A MILLION TIMES better than Carbonite, which is slow as heck, throttles the computer, has horrible restore times, and worse support response times.   In fact if you are considering backup my only key recommendation is do NOT use Carbonite.  There is a reason you hear about them all the time, they are hiding a poor design and poor service with a huge marketing budget.
Second, getting the Google Drive content to the CrashPlan backup.   Easy.   Install Google PC Drive.   When you log into Google Drive there is a subtle link in the left sidebar for this app.    It is an program that will be installed on your local computer.   It creates a folder on your computer which is the "local sync" for the Google Drive content.  You can select which folder you want to keep in sync.   I just let it do the whole thing since I have plenty of space on the 1TB drive in my notebook computer.
Now I have a local copy (first stage backup) of everything on Google Drive.   Even better, if I create something in that folder OR on Google Drive it will be auto-replicated on both sides.   That makes for a good first stage backup strategy.
Second, since this folder goes under your user directory by default CrashPlan should automatically note the new content and mark it for backup, which it did on my system.  If it does not do this you can manually add the Google sync folder to the backup plan.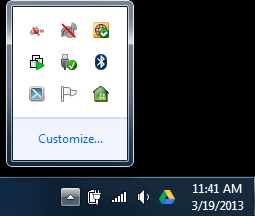 Easy.
I like easy.
UPDATE : NO SO EASY….
Henry Houh contact me last week about an issue with this type of backup.     It turns out Crash Plan will not back up ANYTHING by default when using this configuration.  Why?    Crash Plan runs as the user "SYSTEM" not as your normal login user.     Google Drive runs as you.
In my case the Google Drive folder was created with "Full Control" permission for me but NO permissions for the system user "System".
The fix?
Go to the Google Drive folder, not the shortcut.
Right-click and select properties.
Select the security tab.
Click the Edit button.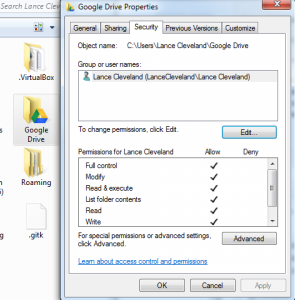 Type "System" in the add user box.
Click "Check Names".
Click OK.
Click on System in the list of users.
Check off "Full Control" under the allow column.
Click OK.
Click OK.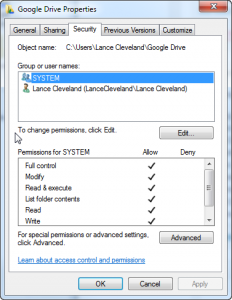 Now your Google Drive content will be backed up to Crash Plan.