I am still in the process of creating my first responsive WordPress theme, based entirely on the Twenty Fourteen theme that WordPress provides. It is still in the very early "hacking" stages but is far enough along to put it to use. It works in conjunction with an upcoming Store Locator Plus theme "Big Map" that uses the Google map as a page background and layers the location search form and results output on top.   Premier Members can get a copy of the upcoming theme and the updated plugins and add-on packs that support it via the downloads section of this site.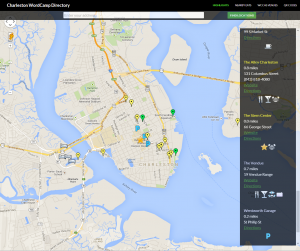 The Store Locator Plus plugin and upcoming Big Map WordPress theme are being used in their early alpha state to drive a new locator site I am testing for WordCamp Charleston this weekend. Go ahead and give it a try and let me know what you think. I know it is far from perfect but I am hoping people start using it and giving feedback so I can learn how to make Store Locator Plus work better with ALL themes for mobile devices.
I already have a list of a dozen things I would like to improve. I'm hoping you can help me refine the experience.

http://Charleston.WordCamp.Directory/