Yet another customer had their credit card stolen or their PayPal account hacked.    The amazing part is how many of these identity thieves not only steal their credit card information but also hack into the person's website.   Then they go so far as to do the most diabolical thing ever!    No, not grab their customer list.  No, not insert redirect links to cheap nike shoes.   No.  Far worse.   They INSTALL MY SOFTWARE on the site.   These thieves are ruthless.
Trust me, I really want to catch these guys.    Every time they do this sort of thing PayPal sends me a customer initiated chargeback message like this one:
Hello Lance Cleveland,

We were recently notified that one of your buyers filed a chargeback and
asked the credit card issuer to reverse a payment made to you on Jun 10,
2013.

The buyer claims that this purchase was made without authorization to use
the credit card. Their credit card issuer needs additional information from
you about this transaction.

———————————–
Transaction Details
———————————–
Buyer's Name: Bruce Bedrick
Buyer's Email: drbruce@kindclinics.com
Buyer's Transaction ID: 2NT293502W259540N
Transaction Date: Jun 10, 2013
Transaction Amount: -$230.00 USD
Invoice ID: WC-10870
Case #: PP-002-432-640-244
Your Transaction ID: 2G720304L9657970L

———————————–
What to Do Next
———————————–

Please respond within 10 days so that we can help resolve this chargeback.
To respond, log in to your PayPal account and go to the Resolution Center
to provide information about this transaction.

The credit card issuer decides if the buyer's claim is legitimate. Once the
credit card issuer receives your information, it may take up to 75 days to
make a final decision.

Because the credit card issuer has reversed the charge for this
transaction, we've placed a temporary hold on the funds associated with
this transaction until the case is resolved. Our user agreement explains
our policies on holding funds.

You can learn more about chargebacks in the Resolution Center tutorials.

———————————–
Other Details
———————————–
There are no other details regarding this transaction at the moment.

Sincerely,
PayPal
Chargeback Department
CB:PP-002-432-640-244:USD230.00:6/21/2013:2G720304L9657970L
PPID PP767
Big deal, right? Well, sort of. Not only do I have to burn 15 minutes responding to PayPal so they don't close my account, at the end of it all the poor victim (Dr. Bruce Bedrick in this case) gets his money back and I end up not only with nothing for the sale but also an additional $50 in fees assessed by PayPal and the credit card company for letting identity thieves buy something from me.  Wonderful, isn't it.    The best part is PayPal and the credit card company actually make a PROFIT in this transaction.  No wonder they don't really give a damn that this happens so frequently.
Kind Clinics
Here is Bruce's website at KindClinics.com along with the installed hacked software: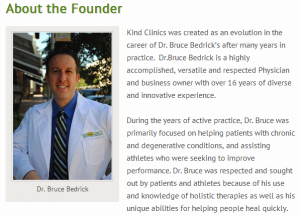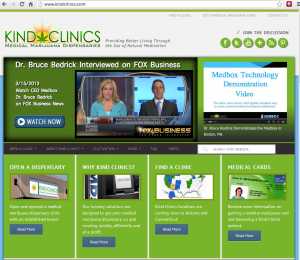 The Victim : Bruce Bedrick
Poor Bruce Bedrick.  I really feel bad for him and his stolen credit card.   I'm posting the information the identity thieves used during the transaction here so you can track him down and let him know I care.
Address:
Bruce Bedrick
Medbox
7047 E Greenway Parkway
Scottsdale, Arizona 85254
Email: drbruce@kindclinics.com
Phone: 800-762-1452
Customer IP: 98.167.201.90