I have been working on filing a provisional patent for the past 2 days.   I am not talking about writing the actual patent, that took over a week.   When I say I have been "working on filing" for 2 days I mean the actual "simple" process of filing the already completed patent via the USPTO online filing system.
The quaint USPTO's web app is referred to as the "e Filing System".    Remember when "e-Whatever" was cool?   That meant you were doing cool online stuff with the interwebs like "e-Commerce".   Maybe it is still cool to refer to anything you do via the web as "e-Something" but I'm pretty sure nobody calls their website their "eStore" or their "eBrochure" these days.
And by "quaint" I mean outdated, non-functional, and generally useless.
Historical UI
Now I know the USPTO goes back a few years.   They started way back in 1871, just before Al Gore got his first computer and started designing the Internet.    Thus I can understand what they are trying to achieve with the user experience throughout the site.    They clearly want to mimic the classic look-and-feel of the original Internet to give the entire site that sort of "reminiscent of the good ol' days" feel.
The horrific color scheme, complete lack of use of white space throughout the site,  pages with nothing but lists of links, and 37 menus per page are all great design patterns of the early Internet.    Sure it makes the site difficult as hell to navigate, but sometimes you need to trade usability for really great marketing and branding.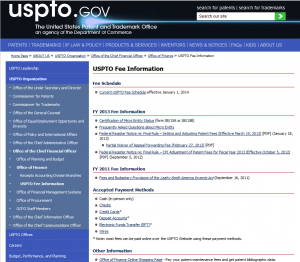 I do think they missed some opportunities by leaving off the scrolling marquee.   I definitely saw a few places where blink text could add to the experience.   I am also fairly certain my browser is not setup properly because I did not see very many animated GIFs on the page either.   But hey, nobody is perfect.   I'm sure they will get those things implemented next week.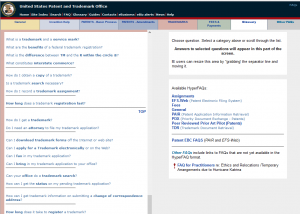 Ultra Secure User Registration
Now, to get started with the USTO advanced electronic filing system they STRONGLY recommend you become a registered user.    With some forethought an ingenuity they actually made this a fairly simple process.    You start by filling out a Customer Number Request PDF file and FAXING it to the USPTO Electronic Business Center.
Once you have that you can then proceed to Obtain a Digital Certificate by downloading and executing the PKI Subscriber Agreement, completing the Certificate Action Form and then MAILING the original form (no faxes or copies) to the Commissioner for Patents.
I am really glad they did this.    I, for one, think it is WAY too easy for people to conduct business online.   If everyone that ran an online business would start requiring people to both FAX and MAIL (I'm talking Postal Mail, aka Snail Mail here… not that spam-infested email thing) documentation to obtain a login then we would ALL be better off.   Just think of how much less spam, phishing emails, and viruses there would be online if everyone was required to prove they were serious by going through this process.
Bravo USPTO on helping make the Internet a more secure place to conduct business.
Maybe NASA, the Armed Forces, and other branches of government will follow your lead and make their systems more secure when it comes to online transactions.  Lord knows their 100% online registration and access systems for government contractors attract the scum-of-the-internet like an infested wound attracts tsetse flies.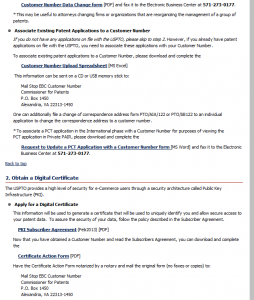 Modern Java Form Fields
Luckily the USPTO has created an online filing system that is a little less historical than the UI design.    Their modern process moves beyond the early days of the web and brings us past the days of animated GIFs and fully into the World of Java apps.   Thankfully they saw the future of web applications and did not burden us with browsers that can't handle things like filling out simple online web forms or uploading files.   Lord only knows that sort of thing NEVER works cross-browser.
Thankfully the USPTO site forces me to download the Java Runtime Engine plugin for my Chrome 35 and Firefox 29 browsers.  Heaven knows where I'd be surfing the web these days without having a full Java engine at my beck-and-call every time I needed to fill out a web form or update a file.    Thank you USPTO for having my back.
Standard PDF Support
Thank GOD they support standard PDF files.   You don't know how many times I've been bitten by the hassle of dealing with NON-standard PDF files.   I mean, it is not like PDF file formats are a proprietary file standard or anything.   If everyone did this I definitely wouldn't need to have those 37 different PDF readers on my system.   Phew, another good save USPTO!
Not to brush off the fact that they also support the modern .ZIP compressed files, mega tables (when normal tables just won't do), and the ever-present etc submissions.   But hey, let's face it standard PDF files are a big deal.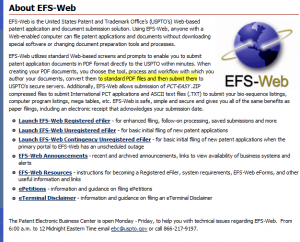 Java Apps That Shine
OK, enough of the sarcastic wit.   In reality the USPTO does have one thing that is useful here.   They do allow the normal scum-of-the-Internet, people like me, to file a patent without having to fax and mail documents to become a registered user.   That is truly a good thing.   It allows me to gain access to the modern forms interface that would only be possible with a solid Java app like the one they have running on the site.
The beauty of the Java interface starts to shine right from the first form.    Things like required form fields marked with a asterisk, helpful information circle graphics with off-color backgrounds, and compression artifacts in inline graphics would not be possible with the basic forms system and CSS of vanilla HTML.    I don't think the random mix of proper-case, uppercase, camel case, and mixed case would be possible – at least not without a TON of extra work – with standard HTML.    Just take a look at all this modern form interface elegance that could only be viable by standardizing on Java forms!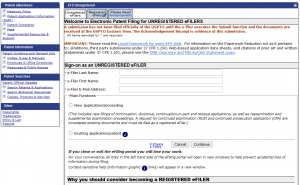 Java Security
Add another bonus point for USPTO security.   Thankfully they have made sure that all form inputs are cleared whenever you go back to a previous form.    I'm not talking about using the back button on your browser here, we all know better than that, I mean baked RIGHT INTO THE APP.  How cool is that?   Fill out a form and miss on of the 39 steps including 12 hidden checkboxes and the form is automatically cleared for you to start over.   Don't want to influence you with past answers, after all they were WRONG the first time you filled out the app.
I also like the fact that the tabs are completely locked down unless you are on that particular step of the process.   It is a huge security hole to allow people to just jump around all willy-nilly like and navigate to any part of the interface.     If you are on the step where you are supposed to be reviewing your documents that is ALL you should be doing.    It has been proven that people are easily distracting and being able to click a tab for a previous step only increases the likelihood of distraction.    Thankfully the USPTO prevents that and makes sure that no matter what tab you click you always are shown only the current page you are supposed to be on… often cleared of all the data you were entering just to ensure you start with a clear mind!
A Lesson In Usability
In all seriousness, I truly appreciate what the USPTO has done here.  It serves as a shining example of how to serve your customer base.    Next time you are about to embark on a new web interface design, PLEASE visit the USPTO site.    Pretend you are someone that is wanting to file a new patent and go through the process.    Take note at how easy the interface is to use, how many times the user starts cursing, pulling their hair out, and throwing their mouse across the room.    Or take the shortcut and try it on a tablet, which will definitely bring you to the final analysis a lot faster; I reckon within 3 minutes of doing so.
Then take a deep breath and think about your new project.    Think about all of the things you DID NOT do to your customer by avoiding all of the user experience elements the USPTO brought to the table.
Go back to your design and think… "how can I make it simpler".
I know it is difficult to see a user experience that you've been working with through a "fresh set of eyes" , but take the time to do so.  Introduce new people to the experience and listen to their feedback.    I've been doing the same thing with my site and every time I go through the process I always find something that I realize "wow, that is a pain in the ass" and try to make it a better experience for the user.
At least I can take solace in knowing no matter how convoluted my user experience is on my site or in my products they are light years ahead of the multi-million-dollar EFS system the USPTO cobbled together.
But hey, they do recommend IE 4 and Netscape Navigator 4… maybe I should go back and test with the recommended browser versions.  Maybe I'm missing something!   Does anyone have a Windows ME computer I can borrow?