I am on a quest to find good programmers that are well versed in WordPress.   After speaking with multiple investors it is obvious that to bring Store Locator Plus to the next level I need to have talented self-sufficient staff.    I need to "up the game" from part-time support and coding positions to a senior-level PHP/WordPress expert that can be my "right hand man" when I'm not available.   This is especially important as my new media entertainment company is getting a lot of interest and starting to command more of my time every week.
The quest for a WordPress programmer is on.
Seeking :  Senior WordPress Programmer
Only apply for the position if:
You are an INDIVIDUAL, not a company and not an individual representing a company.
You have hands-on WordPress theme or plugin coding experience.
You write and speak English fluently.
Key skills I am seeking:
Well versed in WordPress coding.
Understand hooks and filters and have experience implementing them.
Possess extensive WordPress theme and/or plugin development experience.
Utilize proper object-oriented methodologies in their PHP implementations.
Use version control, git preferred, and comment documentation in phpDoc format.
Know and adhere to WordPress Core coding standards.
I will give preference to applicants that are geographically closest to Charleston SC USA.   Communications improve with fewer time zone differences.   They are even better when we can meet over coffee or beer on a routine basis.
Where I'm Looking
Rather than use my usual "go to" sources to find local programmers or low-to-mid-range programmers, I decided my current needs are best served by scouring the WordPress community for people that are going to be a better fit and require little training.   The usual suspects like Elance and Craigslist have failed to produce quality applicants in the past.  I'm going to completely forgo Elance as I don't need to be spammed with 300 applicants that don't read the requirements and are programming sweat-shops in India or some other low-cost/low-quality production shop.    (No hate mail please, I know they are not ALL like that but in my experience 9.5 of 10 of responses on these types of site are EXACTLY that).
Code Poet : WordPress Developers on G+
Code Poet links directed me off the site in fairly short order and landed me in the WordPress Developers Google group.  This is a discussion group about all kinds of WordPress "codish" topics.   There is a jobs section.  Not sure how much traffic it gets.  We'll see.
Read my "seeking WordPress/PHP developer" post.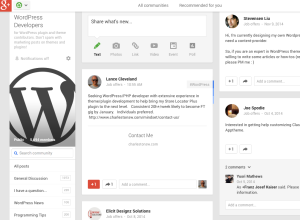 Free listings, quick and easy to setup.   You can upgrade to 30 day listings for $60/month.  I would post the job listing, but it takes a bit of time to be approved and listed.   They do allow for formatting of your listing and will link to your site and social media accounts.  That is a nice feature.  Not sure about the volume of traffic though.
Another free listing site that is WordPress-centric.  Requires some basic HTML if you want to format the listing.  Another waiting period so no links to that posting to see how it looks.