Store Locator Plus version 4.2.17 was released today. The latest update has minor administrative updates as well as code refactoring for the add locations process. The updates should have no noticeable impact for typical users. Developers that have integrated the Store Locator Plus locations into other projects may need to update their code to accommodate the change of location in the location geocoding methods. Other updates in the Store Locator Plus plugin are related to administrative UI elements, adding new features to allow for dynamic updating of input fields to be disabled and enabled based on drop down selections. This can be useful for add-on packs with complex administrative setting interactions.
This update should not impact the administrative or user experience. The release is primarily to support new features in add-on packs such as the forthcoming Pro Pack schedule location imports.
Developer Notes
If you are using class.adminui.locations.php in your add-on pack or custom code and are calling any of the location add or geocoding methods you will need to require class.location.php. You can check the new class.location.php code to obtain revised method names for adding and geocoding locations. The most-oft-used method in the locations class is the add_to_database() method. If you have questions or problems please ask to join the CSA Slack channel via the contact form on the CSA website.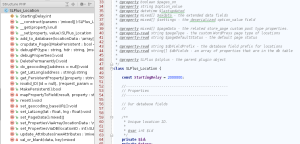 Store Locator Plus Changelog