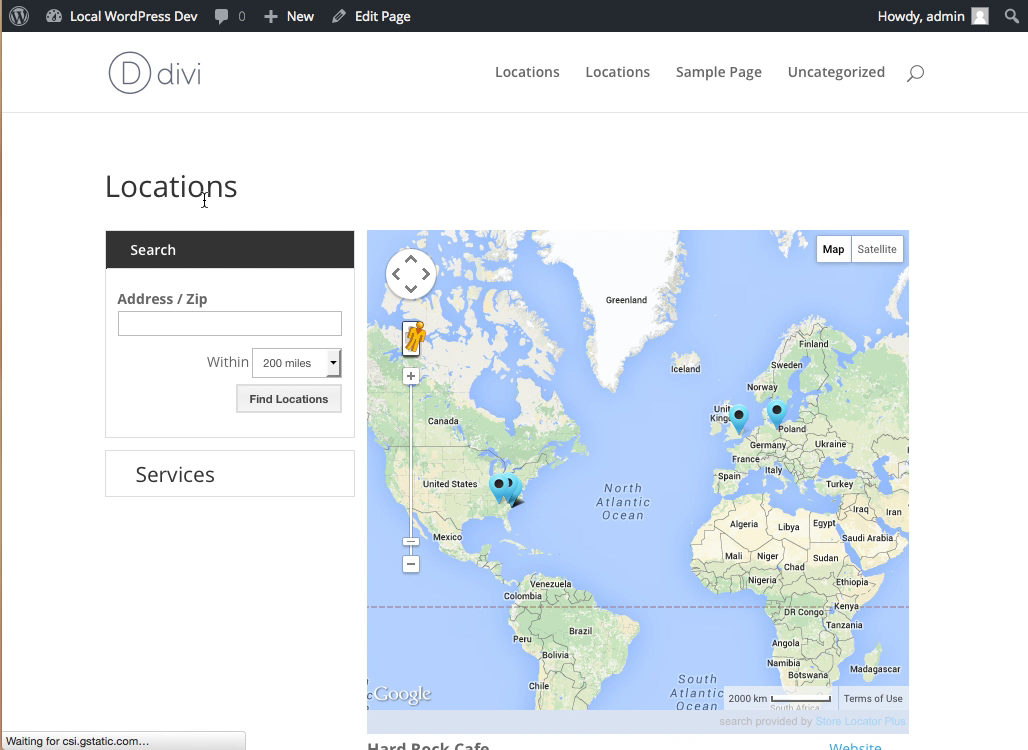 Update 4.3.03 was released for Store Locator Plus today.   The update includes a patch to the plugin styles (formerly known as themes) and simplifies the process of applying those styles.     Shortcodes that were appearing in the results for some plugin styles has been fixed.   The directions link has also been fixed.
Change Log
Directory
store-locator-le
WP Versions
Tested 4.7.3 , Min 3.8
Description
Add a location finder or directory to your site in minutes. Extensive premium add-on library available!
Change Log
4.7.7
Enhancements
Use WP Best Practices minimalist plugin loader approach to reduce overall WordPress plugin overhead.

Fixes
Fix problem in activation module when upgrading from older SLP modules that would break some sites on initial distance calculation.

4.7.6
Enhancements
Improved add on update checking.

Extended JavaScript interface for external applications including MySLP.

Code simplification for less disk & memory storage.

Improved code architecture takes advantage of PHP5 and PHP7 caching,especially MySLP which can significantly improve performance.

Much less data I/O during location search means slightly faster location searches that use less RAM on the server when running.

Changes
Fix Map Center setting for users upgrading from SLP 4.7.3/4.7.4 where map center was stored incorrectly.

4.7.5
Enhancements
Custom Map Markers and Icons now has a direct upload interface with media manager.

Changes
Legacy Widgets Add On no longer supported, use MySLP

4.7.4
Fix the rogue "add_on" for people that upgraded from an older version of SLP.
4.7.3
Enhancements
A new plugin style gallery taps into our live style server for a wider selection of map styles.

MySLP styles from our style gallery is now shown alongside standard plugin styles.

Add new [slp_option name="<option>" ifset="div"] layout controls for better UX building.

Fixes
Address bug in valid lat/lng test which impacts numerous location validation and map center tasks. Impacts any longitude starting with zero as second digit after 1 such as -10
.
Changes
Legacy Enhanced Search Add On no longer supported, use MySLP.

Legacy Add Ons Enhanced Map, Enhanced Results, Pro Pack no longer reset to default SLP layout settings if left empty.

Drop support for slp_render_map hook.

4.7.2
2017 URL and branding updates. The WordPress plugin site is now at
MySLP
.
4.7.1
Enhancements
Faster DB loading of options.

Added support for cron hooks in smart options.

Update admin CSS menus for narrow displays.

Allow enqueue of minified admin.css files.

Revised lat/long field type and created index for improved performance.

Fixes
Dismissible notification events.

4.7
Enhancements
Faster Map Rendering.

Add support for results interaction with add on packs.

Gracefully capture invalid REST API requests for smart options that do not exist.

Highlight related settings when hovering over a setting.

Fixes
Update to plugin style manager to stop dropping/duplicating style files.

4.6.5
Enhancements
Add hooks and filters to allow add ons to extend the Plugin Style headers.

Add Serbia as a supported country.

Fixes
Add on updates now fire after SLP has been initialized. Required for inline Premium Plugin updates.

Fix bug when turning on Show Map Togle with Enhanced Map or Experience Add On.

Changes
Drop support for Pages add on older than version 4.4.04.

Drop support for Enhanced Search older than 4.4.

4.6.4
Enhancements
Update Experience admin tab to slug-based system allowing add ons with incomplete languages files to render settings on the tab.

Speed up smart options loading and initialization.

Add a REST endpoint for reading smart_option values from SLP for add ons and 3rd party services.

Add a 'marker' JavaScript pub/sub filter in wpslp.js to allow add ons to manage more of the default marker attributes.

Fixes
Fix the subtab menu selection after saving settings.

Zoom Tweak default level of 0 is allowed (instead of -10).

4.6.3
Enhancements
Update the Plugin Style sidebar display.

Enhance the settings sidebar display.

Fixes
Fix the Plugin Style layout modifier that broke with the 4.6.2 release.

Clean up the main menu tabs so they don't wrap over the subtabs.

Fix the __isset() magic method in smart options to ensure empty() fires the add on hook and filter to catch option updates/pulls as they happen.

4.6.2
Enhancements
Show admin help settings in a new sidebar to make it easier to see what each setting does.

Show location details preview in right sidebar on manage locations page.

Start adding links to direct documentation pages for various settings.

Utilize a URL manager to make it easier to find and fix outdated URLs in future releases.

Implement a new slp_get_text_string filter for add ons to manage text strings.

Make more of the hard-coded gettext strings accessible to the text manager.

Don't load the SLP overhead on the WordPress admin heartbeat since we don't do any heartbeat processing. Wouldn't it be nice if all plugins did that?

Fixes
Multisite installs - upgrading SLP fixes "not an array" error that would cause white screen on upgrade for sites using WP 4.6+

Fix stripslashes_from_strings_only() undefined function for sites running old crusty WordPress (you really should update to WordPress 4.4+ for security reasons if nothing else).

Recalculate initial distance for all locations on global center map at change.

Changes
Update the WP Plugin directory links, they moved stuff.

Experience will need to be updated to 4.6.2

Performance update: Drop adminUI create_InputElement() method. May break pre-4.2 Add Ons, upgrade to latest release.

Performance update: Drop unused 'slp_navbar_item_tweak', 'slp_navbar_item', and 'slp_navbar' filters.