Store Locator Plus : Janitor Released
A new add-on pack has been published in the WordPress Plugin Directory: the Store Locator Plus Janitor add-on.  This add-on pack helps "clean up the mess" that may have been left behind by an older installation of Store Locator Plus or by a backup-and-restore used to move a Store Locator Plus enabled site to another server.    The Janitor will go into the WordPress options table and delete all of the Store Locator Plus and add-on options that it knows about.  It is a destructive operation, so use with care.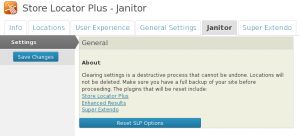 WordPress 3.7 Enters Release Candidate Stage
WordPress 3.7 is imminent with release candidate 2 (RC2) now out for testing.    I am up-to-date with the latest nightly build on my development systems and have not had any issues with Store Locator Plus compatibility.   If any issues are discovered I anticipate having a patch out very close to the WordPress 3.7 release date.    What is coming in 3.7?
Backround Updates appears to be the big feature.   This is an active update system that will apply any minor release patches to your core WordPress files unless you explicitly disable the feature.   Great for keeping WordPress more secure, as long as no new bugs get pushed to your site.   This is very similar to how most of your modern web browsers and desktop apps are working these days, constant minor updates without requiring your input or approval.