With all the updates coming out of WordPress over the next 6 months, I decided I had better keep up with what is going on so I can ensure the next major release or the Store Locator Plus plugin (SLP4 as I've been calling it) will remain relatively unscathed.  I've started following the WordPress Core development blog or "make/core" as they refer to it in IRC.      That led me to the "2013 State of the Word"  video that is out on various video channels on the Internet where Matt talks about the MP6 plugin as the framework for testing new concepts for WordPress 3.8 due at year-end.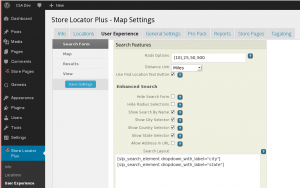 After playing with MP6 for a few days I noticed some things don't play well with my plugin.   I had better start paying more attention to the UI shifts and other elements that are coming in the next 6 months that will impact my user base.     That is when I found the IRC for the core WordPress development group and decided to follow along in real-time this week.
Like yesterday, while on the WordPress 3.7 development chat, I was working on plugin videos and doing some testing while lurking on the 3.8 chat.    Something "photomatt" posted caught my eye… suggestions for new WordPress features that could become part of core.     I knew EXACTLY what I wanted if I could only get one "WordPress wish".    Better page and post navigation on the admin panel.
I have helped implement dozens of sites that have HUNDREDS of pages.    The Charleston Software Associates site included.     While I try to keep most volatile or time-transient content in the posts, I put anything that I feel should be "permanent content" into pages.   Like the help docs for an increasingly complex product.   Store Locator Plus has over 40 pages of documentation alone, and most of that has been condensed and consolidated to cull the list down from 60+ pages.
The problem with all of those pages is I often cannot remember the exact title or even part of the title for a page I am searching for.  So I start "paging".   "Let's see… Search starts with 's' near… that should be about page 7 of 10".    After about 3 wrong guesses I end up clicking the "Next" button or "Previous" button a half-dozen times.    It takes way too long to find the page I want.
Posts? Those are far worse.    Yes, Search from the main site helps, but that is only good for content searching.   What about when I want to re-order pages that are "spanning the break"?    Or those odd things that happen when I delete a page and the pagination structure changes and my second browser window breaks WordPress.. "Cheatin' huh?".

So I posted my idea to the chat and Matt put it on "the list".     That was cool!   Now to see what I can do to promote and foster the idea so it makes it into WordPress Core for everyone to play with.  That would be even better than having a 3-line patch hidden deep in the code!