The Janitor add-on pack for Store Locator Plus adds a new drop locations feature.    This feature makes quick work of deleting the Store Locator Plus locations when a simple database reset is required.   The new feature is far faster than the previous Clear Locations option, but Drop Locations does have its limits.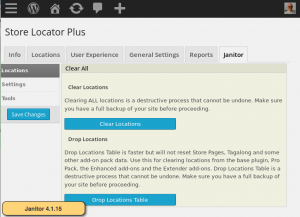 Drop Locations
This new feature removes the main locations table and the extended meta data fields, used by the * Extender add-on packs, via a the SQL DROP TABLE command.  Both tables are immediately recreated.     This feature does NOT remove the associates custom WordPress "store pages" data NOR does it remove the Tagalong and custom taxonomy data.    If you are not using Tagalong categories and are not use Store Pages, then Drop Locations can remove tens- or even -hundreds-of-thousands of locations in less than a minute.    By comparison a 200,000 location table can take as long as 2 hours using Clear Locations.
Clear Locations
Clear Locations is a more thorough removal mechanism.  This process leaves the data tables intact but deletes the records one-at-time using the WordPress data interface which invokes all the hooks-and-filters.  That means any third party or CSA-derived add-on packs will fire all the "location cleanup" processes including Tagalong data cleanup , Store Pages cleanup, and any related meta data that may be hiding in WordPress options tables, taxonomy tables, custom page types, or custom data tables installed by add-on packs.
Janitor Change Log