When looking for business locations, Americans search for food above all else.
In a typical month Google users search for business locations just over 3 million times.    Nearly 44% of those searches are for food, which does not include grocery stores.    That is more than TWICE the volume of location searches for the other top 5 location search categories combined!   What are the top categories?  Restaurants at 44%,  Drug Stores at 14%, Shopping at 11%, Banks & Money at 5%, and Grocery Stores at 4%.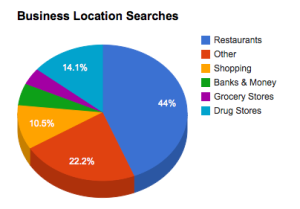 Fitness related searches for health food, gyms, etc.?  That was grouped in other at a tick over 1% of all searches.  The entire category is 1/4th as much as searches for Subway and IHOP.   Fitness and health location searches as a whole rank below individual searches for Cracker Barrel, Chick-Fil-A, Sonic, and Panera.   Even searches for the phrase Federal Inmate Locator rank higher!
What are the top searches for locations?
Subway 5.61%
Panera Bread 5.47%
IHOP 5.29%
Whole Foods 2.37%
Home Goods 2.37%
Sonic 1.59%
Chick-Fil-A 1.59%
Coinstar 1.59%
Cracker Barrel 1.3%
There are a lot of different comments that can be made on what this kind of data says about modern day lifestyles.    However I stumbled across this interesting statistic via a different path.    I was not looking for lifestyle trends but doing research on my target demographic for the Store Locator Plus business locator product.   Obviously I need to focus on features that best serve the restaurant industry while planning my 2015 development schedule.