After 25 years of system crashes, dozens of laptops failing under warranty, months of lost productivity in patches, system reboots, and restores I have finally had enough.    You might call it being stubborn.   I call it 25 years of retained knowledge that I refused to let go.   All the Windows shortcuts.  The black magic required to find system files and bend them to my needs.   Navigating system security.   Knowing nearly any app that existed so I could find the right tool for the job.
Then came Windows 8.   Half of that knowledge was now useless.    Even the decades-old F8 key press on system boot to get to safe mode to recover a broken PC was gone.   I learned that last week when my HP laptop went AWOL for the FIFTH TIME since December.    A $2500 high-end enterprise class HP laptop turn out to have been my second all-time productivity killer right behind my $3800 Asus top-of-the-line gaming laptop I bought a few years ago.    Lesson learned: It doesn't matter how much you spend on a Windows Laptop it will break and the more costly it is the longer it takes to get parts to fix it.
The Camel Surrenders
This weekend was the last straw.    I literally spent nearly every hour of the past 4 days trying to get my primary development system, that HP laptop, back online.    What did I do to break it?   Installed a CRITICAL HP security update from their laptop-specific HP Support Assistant software.    When it rebooted the only thing I got was the Windows 8.1 version of the "Blue Screen of Death" (BSOD)… the inevitable frowny-face which means 2 more auto-reboots to end up at the "Restore Your System" state.    Sadly system restore, system fresh, and even the Factory Restore Disk applications did not work.    That last one, Factory Reset was the best.  The ONE application that is the "nuke it all, restore the system to Day 1 status" did not work.   It could not run because there was a problem with the primary Windows installation.  AWESOME.   Why do you think I wanted to do a Factory Restore?  Because I was bored?  Because I had so much fun installing 5 days of downloaded apps to get my system setup the first time around?    Because I'm a glutton for punishment.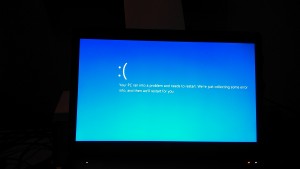 Well, that last statement may be true given my opening remarks in this article… but I digress…
I had now added SIX MORE FULL DAYS of lost productivity to my lifelong count of 1,356.9 days lost trying to restart a broken windows PC.
Midway through day FOUR of lost productivity I had enough.    I called the local Apple Store to see if they had the newest MacBook Pro available.   Sadly they were out of stock, but my favorite online shopping site, Amazon and their Smile charity program, had the laptop I wanted and at a LOWER PRICE even after the $5 overnight Prime shipping!
New Toys
Today the MacBook Pro arrived.
My old HP laptop, that sat their in defiance all weekend with that damned frowny-face on EVERY ONE of the 18 RESTARTS, I wish I was exaggerating, booted up like nothing was ever wrong literally 90 SECONDS after I opened that MacBook Pro box.    I swear I heard a wav file playing from it's speakers in  whispered-voice that sounded an awful lot like "Oh shit, he wasn't kidding when he said 25 years of Windows was enough!".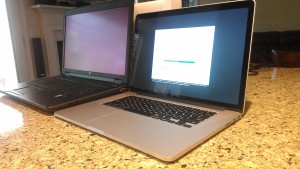 The Apple Package
My brand new MacBook Pro 15″ laptop.    I had forgotten the great job Apple does packing their products.   I remember being impressed the first time I opened my first-generation iPhone some years ago.  I did notice other companies started to copy the "Apple style" for gadgets-in-a-box and I thought the most recent laptops and phones I got from other brands were "just like what Apple was doing".   Turns out Apple has pushed the envelope even further as they continue to refine the product packaging.    Yes, it is a small thing, but it show how Apple seems to iterate over every element of the customer experience until it is perfect; until tomorrow when they come up with something better.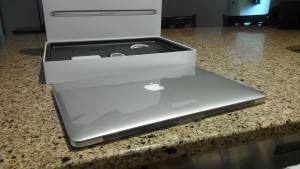 A Laptop For Laps
Immediately I noticed how THIN this new Apple laptop was.   It has just about the same technical specifications as the HP ZBook 17″ I've been lugging around.     Nearly identical processors,  identical RAM, the same video ports, and a 512GB SSD drive (far faster) on the MacBook versus a 768GB SATA on the HP.   The MacBook screen is a touch smaller at 15.4″ to the HP 17″.    But DAMN is this Apple machine so, so, so much smaller and lighter and easier to tote around than that HP.    Even bringing the HP into the living room to hack around was a chore and after 15 minutes on my lap I could feel my legs going numb from the weight and the heat that thing throws off.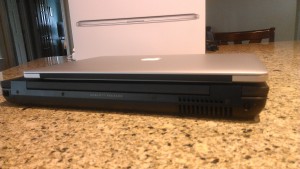 This Apple is going to be FAR easier to travel with this fall.     I'm going to truly enjoy how much less size and weight I carry around both around town and to the various conferences I hope to get to around the country this year.
External Displays
I must say that the Windows display system is far more flexible than the OS/X system.   However the OS/X display system in this MacBook actually WORKS right out of the box.     Within minutes I had 2 external HP ZR2440W monitors, which are really nice monitors by the way, connected with the proper resolution and display placement.   What did I have to do to get my 3-up display system working on the new MacBook?  Plug them in.    That's it.    Nothing more.
On that high-end HP laptop that claims "out of the box support for 5 monitors"?   Turns out that is a lie.   It can handle 3 monitors.   Even with the "simple" 2 external monitors + the laptop display, same setup as my new MacBook, it was far from "plug-and-play".    I had to download and install a new BIOS on the brand new HP laptop.   Then I had to install a new Video BIOS.   Then I had to install new drivers.  Upgrade Windows.   The entire process required 3 reboots and even then it did not work properly.  Any time the system went into sleep mode one of the  monitors, a random one each time, would not come back.    I got a patch from HP 2 months later for that, which required another download and reboot process.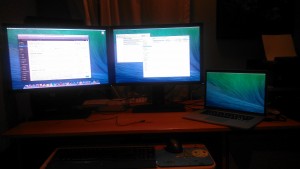 The Out Of The Box Display Support winner is the MacBook Pro 15″ by a mile.
The next display test?   Connecting THREE external IPS displays to the MacBook.   Rumor has it this is "no problem" according to the Apple Store.   When my mini-displayport to display port cable comes in later this week I'll let you know, but we're off to a good start.
External USB Ports
The MacBook Pro is a bit shy on USB ports.   It has a couple, but that's one less than I need and one less than my HP laptop.     Actually 5 less if you count the HP docking station but I'm sure I can buy a $300 Apple accessory that adds more ports if needed.     Instead I tried to do something that NEVER WORKED properly on the HP laptop; use the 4 USB ports that come with EACH ZR2440W monitor.
With my older HP laptop I went through over a DOZEN USB driver updates, monitor driver updates, and even had a full monitor replaced before I could get even HALF the USB ports working that are built into the displays.    Supposedly you can connect a USB cable from the laptop to the monitor and immediately have all 4 ports recognized by the USB bus.    The high-end HP enterprise-class laptop connected to a high-end HP enterprise monitor was a bust.     When the ports did work only half would work properly and any device attached would drop off the USB bus at random intervals.    I could never use my keyboard or mouse with that setup.   I had to buy that HP docking station to give my system 4 additional STABLE USB ports.  The ports in the monitors were useless.
With the MacBook Pro I decided to give it another shot.  I connected a port on the laptop to one of the monitor ports.   I connected my keyboard, Logitech unify dongle, and Wacom table dongle to the monitor.     Everything worked beautifully, perfectly, and with ZERO configuration on my part.     I've now written this entire article without a single dropout from the keyboard or mouse.
External USB device support winner?  Apple.  By a mile.
Getting My Stuff
Over the past few days I've had my development environment scattered between the Mac Mini, a broken HP laptop, and some USB drives.   Now I need to get tens-of-gigabytes of files, install packages, and data over to my new laptop.
Getting ANYTHING on Windows 8.1 to talk to anything else is a disaster.    It has been since all the way back to Windows 7 when NT server-class security technology crept into the desktop OS.    Getting any Windows PC to share anything is an exercise in patience.    That is why the entire hokey "Homegroup" sharing thing came about.   It work, but it is SLOWWWW.   Somehow Windows managed to find a way to throttle their own Windows-To-Windows network transfers with some fancy restart-where-you-left-off transfer protocol.  The entire thing is FUBAR.
On the MacBook Pro I found that getting anything from my Mac Mini was blissfully easy.    HOLY SHIT why can't Microsoft make it this easy.     On the MacBook I went to Finder and immediately found my MacBook mini (where I had turned on File Sharing from System Preferences early in the week by checking a box… no driver or security configurations needed).    Click on that MacBook Mini listing and it asks for my username and password on that system.    I turn it on and guess what?   All my shit is there.    Quick, easy, and accessible.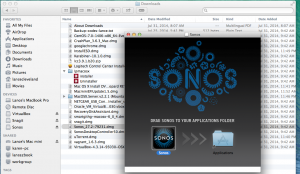 So what did I try next? Something super crazy that just NEVER WORKS RIGHT on Windows systems.   I decided to run the Oracle VirtualBox and Karabiner installs from off that Mac Mini without copying the files over to my MacBook Pro first.    It ran fast as heck and perfectly, just as if I had run it from the local disk.     HOLY CRAP.   I though for sure it would barf all over itself and require a system reboot and restore like so many remote Windows installs I tried over the past 25 years.
Bluetooth Sharing
This is something I tried to do for months with the HP laptop, and several other PCs before that.   Send a file using bluetooth from my Android phone to the laptop.    On the HP I could get the devices paired and the send/accept file started but it NEVER finished the transfer.  It always aborted no matter the file size.
On OS/X Mavericks?   Pair the devices.  Go to sharing in System Preferences and check "Bluetooth sharing".    Go to the phone and share via bluetooth.    The "accept file" dialog shows up on OS/X and guess what?  The file actually APPEARED in the downloads folder just like it should.    No extra drivers to install.  No security warnings.  It just plain worked.   Nice!
Summary
Yes, this is all little stuff, but in my first HOUR of working with the MacBook Pro I am already impressed.   Yes I've used OS/X before but never have I had much interest in getting things DONE quickly and exactly the way I wanted.   My prior forays into OS/X have been purely as a secondary system to my Windows development boxes where OS/X only existed to supported some IOS development as needed.    But this time around I'm going "all in" and thus far I am impressed enough by the "simple little stuff" and how much better it is than the Windows experience that I had to share.
Yes, all things will likely go to hell soon enough.    I have a unique ability to break ALL THINGS that use spinning electrons to do their magic. But so far I'm liking this new toy.  If it holds together for more than a week without my breaking it I will be truly impressed.    We shall see how good this Apple deal really is.
If it doesn't work out you may find me tending bar somewhere around town in the next few weeks.
If it does work out, on the other hand, Apple may have just converted another Windows user and I could be one of the biggest "Apple Fan Boys" yet.