If you've been following my blog you've notice that I've recently started putting hashtags in parenthesis in my post titles.    Why they heck would I clutter up my post titles with that bit of ugly?  The simple answer is that I am using Jetpack to help "socialize" my blog on Charleston Software Asssociates.
Jetpack will automatically publish your WordPress blog posts to Facebook, Linked In, Twitter, and Tumblr.    It is a great way to keep followers at those social network sites updated on what is going on without  having to login and post at each site.  Jetpack takes care of that for you.   I also like the fact that it keeps my blog posts in sync with my social media.  Less work and a consistent message.   A winner.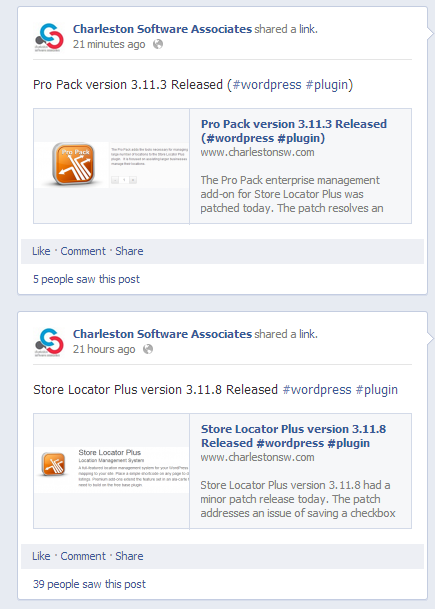 It also turns out that I've been seeing a lot more posts on Facebook lately with the hashtags listed.    They are now automatically hot-linked to a summary of any-and-all posts made by other people that referenced the same hashtag.   Yes, this can lead to a lot of garbage posts in the hashtag thread.   However there is a lot of good content in there as well and it makes for a great tool to discover new things.    Like other people you've never met discovering the blog posts you just wrote.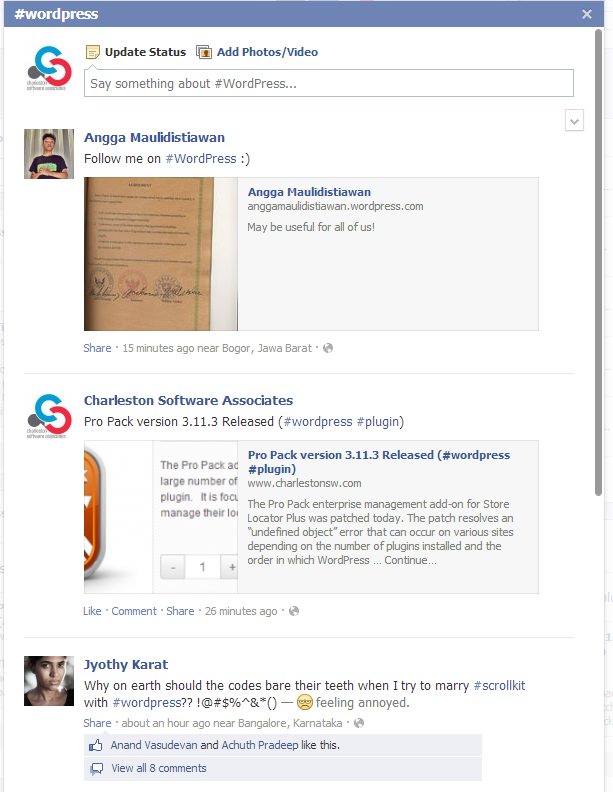 So how do you get hashtags in your auto-generated Jetpack listings at Facebook and Twitter?   Easy.  Put a typical #<tag> hashtag reference in your page title.    Sorry, Linked In is a bit behind the curve here… no direct hashtag support there. Yet.
I made the mistake on my first couple of test posts.  I used hashtags directly in the title itself.   Works great, but it clutters my blog directory and listings.  It also looks ugly.     Turns out Jetpack has a "Custom Message" setting that hides, somewhat discretely, over in the "Publicize" section of the Publish panel.
Expand the Custom Message and it should show your initial title that you entered when creating the post.    Add your hashtags there and, I am making a big assumption here, it will publish the message that you entered there as the content on the Facebook and Twitter sites along with a link to the original article with a hashtag-less title.   The best of both worlds.
Not using WordPress and Jetpack to manage your blog and social media yet?  You may want to check it out.   WordPress is a juggernaut that will be hard to stop in the online publishing space.