I am sitting here tonight updating the blog while sipping on a hot cider thanks to the generosity of the Pocapoc Creative Team "across the pond" in the UK.   They showed their appreciation for a little extra assistance this week by sending along an item on my Amazon Wish List.   My very first Wish List item, how cool!    Thanks Pocapoc, it is very much appreciated!
Today was a day most about organization, a little about testing, and a bit about family.    First, the info on the upcoming SLP 4.1 release, which is what most people will want to know about.  I'll follow up with some details about my efforts to get the Store Locator Plus Community Contributors organized into something other than an ad-hoc email chain that hides in my inbox.
Store Locator Plus 4.1
Store Locator Plus 4.1 testing continue today.   A package was built, successfully…which was concerning as the original build scripts were part of the wpCSL framework which was ripped out, and installed on my test WPMU site.    Initial testing shows the site to be stable.  That is good.  It means a few things:
SLP 4.1 has not introduced any new issues on WPMU installations and works as expected.
SLP 4.1 works fine with WP 3.8.1
The new release appears to be fully backward compatible with existing installations of:
My test site does not take full advantage of the new SLP 4.1 release benefits, but the site does not break with the older releases intact and activated.  Upgrading those add-on packs will minimize any potential issues and will increase performance and the feature set, especially Enhanced Results which will add the Featured and Ranked location options when I upgrade to version ER version 4.1.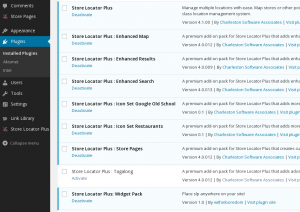 Language Translations for SLP 4.1
I have also published the latest language translation files and have requested translators send back their .po and .mo files by the middle of next week to be included in the initial 4.1 release.  If they arrive later there may be some rapid-fire patch releases to get them out to the public as quickly as possible.   If you wish to translate Store Locator Plus or the add-on packs please let me know.    For each completed translation I will add a free add-on pack to your account.   You will also be given access to the new Store Locator Plus boards on Trello as part of the Store Locator Plus Community Contributors team.
Store Locator Plus Community Contributors
Over the past year there have been multiple people contributing in their own way to the Store Locator Plus product.   Some contribute code.  Others provide translations.  A few are producing private add-on packs.   Some are creating add-on packs that have been released, or will be release, to the public.     Those that have continue to contribute to the project are now being invited to the Store Locator Plus board over at Trello.
Trello is a tool that I was introduced to while exploring Easy Digital Downloads.   It is a simple interface that helps me keep my active To Do lists organized without cluttering my desk with Post-Its or my calendar filled with tasks and reminders.    It has been a great way for me to see the "mile high view", not just of Store Locator Plus but of my life in general.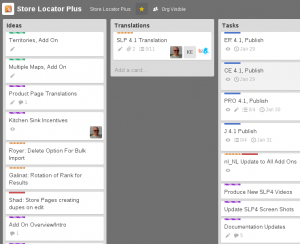 As the Store Locator Plus community has grown over the past year, so too has the need to get things organized.   Too many people that contribute to the project are completely isolated.  They are only connected to me through my inbox and a trail of email messages.    There is little visibility into what is going on "behind the scenes" in the Store Locator Plus world.
In addition to more frequent blog posts, like this one, that are shared with the general public, the Store Locator Plus board on Trello will now give the Community Contributors a place to see what is on the agenda for the product.  They can share notes.  They can ask questions.  They can give feedback.   They can contribute.  But most of all they can collaborate!   While the forums helped provide some of the information flow, Trello does a much better job of visualizing the "big picture" in a fluid fashion.
Coders can take on a concept, ask others for advice or assistance, and let others know when their work is ready for review.
Translators can keep up-to-date on upcoming releases, get the latest builds with the latest .pot and .po translation files, and get ahead of the curve when it comes to doing their translation for the plugin.
Most of all they can communicate; not just with me but with each other!
Want an invite?   Ask to contribute!  Translators are always needed.   Coders looking to create and submit new add-on packs are always welcome.