A few weeks ago I was on my Google Drive and organizing stuff from several project, prospective business ventures, and my WordPress plugins.  I have a half-dozen "things" going on these days and need to keep my notes, spreadsheets, flow diagrams, and other materials organized.    I created folders and moved stuff around.    To make it even easier to find things I assigned a color code to each folder as visual clues make for faster navigation once you train yourself on things like colors and shapes.  This is why good icon design is paramount, given mobile desktop UX that proliferates our lives thees days.
However, at Google Drive I noticed that the colors I assigned to various project folders only shows up as a colored box on the drop down menus as well as a few other discrete places.   I decided to drop Google a note via the web feedback form.    "Hey Google.  Why don't you color code the FOLDERS themselves instead of keeping them all gray?   Should be easy enough to do.  You obviously are passing color code data to the UX already.".   Something to that effect.
I never got a response, but today when I went to my Google Drive I saw EXACTLY what I had requested as part of the updated UX.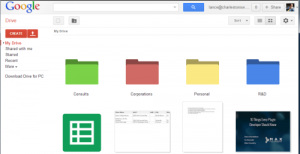 Unfortunately Google never responded to my suggestion other than their typical bot responder.   Did they look at my suggestion and send it to a developer that said "Great idea, that will take 2-seconds to put in place" and baked it into the experience?  Or did they already have this planned for months?  Approved by committee  and a band of meetings to to a UX review analysis and full UX studies?    I'd like to think Google is still able to operate in an Agile fashion, fast & nimble and responding to input quickly.    Or have they become a typical corporate giant where it takes a year to get even a single pixel moved after design, analysis, re-design, and several board meetings before anything happens?
I'm not sure if my request and the 3-weeks to seeing it go live was just a coincidence.  Probably.   But I'll fool myself into thinking that maybe I was the 10th request they got this month for that feature and some dev just "threw it in there".   If only Google would communicate with the user base, or even just the paid business apps accounts (yeah, I pay for gMail… I know, right?), and give us some clue that someone is listening.  Whenever I communicate with Google I hear the "on hold music" playing  in my head.. "Is anybody out there?   Just nod if you can hear me…"  – Pink Floyd.
Regardless, I'm happy that my Google Drive is no longer color blind.   Thank you Google!