Store Locator Plus is helping 45,000+ WordPress sites present interactive store locator and directory maps to their customers.   Along the way I have gained the loyalty and trust of thousands of web consulting agencies, design agencies, and website owners from mom-and-pop shops to multinational corporate enterprises.    Part of keeping that loyalty and trust is keeping up with changes in technology and in business.
Over the past month I have been in conversations with both Google and Microsoft regarding their map services.   It is no surprise to anyone that has been paying attention that maps are THE Go To Service for both these companies.     The proliferation of mobile devices and the partnership it brings between  "show me what I want" and "for where I am standing right now" has catapulted mapping services from a "yeah, we have that too" service to a must-have component.
Monetizing The Maps
Based on my recent conversations with both companies it is clear.   Google and Microsoft are the top players in mapping technology and they are going to monetize that technology every way they can.    They are NOT going to leave that money sitting on the table.   If you are a business and are using maps to enhanced your customer experience, the writing is on the wall:
YOUR BUSINESS WILL BE PAYING FOR MAPS.
Period. End of story.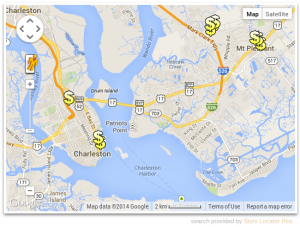 Google and Microsoft have all been putting a LOT of work into their map products.  They are both offering paid services for business maps.    They are also putting a lot of pressure on third party service providers, like Charleston Software Associates, to start paying for access to those maps.
It is no longer an option to provide premium map services to your customer base and avoid paying a license fee if there is a map solution involved at any step of the process.   If you do charge for ANYTHING even remotely related to showing a map on a website you need to purchase a map license.   Have a freemium model, like Store Locator Plus, where "all the map goodness" is baked in to the free offering but the "CSS and HTML special sauce" exists in paid add-on packs?  Doesn't matter, it is tangential to the maps and thus a "premium maps offering".   If you earn ANY money in ANY way related to a map API you must purchase a license.
How much are those licenses?   Tens-of-thousands of dollars depending on who you talk to.      Have 100,000 visitors looking at your map page in a year?   Try something north of 6-figures.
No wonder Apple decided to contract their own mapping services. Makes complete sense why they stuck with it after the first roll out that was less-than-perfect and current iterations are "not quite right".   If a small business is paying tens-of-thousands and a big business is paying hundreds-of-thousands, imagine what sort of licensing fees Apple had to be paying.
What This Means For SLP
I have been working the business plan for Charleston Software Associates and trying to justify the nearly $20,000 license fee that Google is charging for an OEM license starting next month.    It is an annual fee that may (and likely will) increase in coming years.   Thankfully I have just enough people buying premium add-on packs to justify the expense.
How does this affect Store Locator Plus?  I plan on providing the same plugins I have provided for the past 2 years.    I hope to continue providing a free base product in the WordPress directory, though that may change.  It is possible that I will need to keep a Google OEM license "locked up" on my servers and make a call-back to my cloud presence before locations can be geocoded.  I am still working out the legal and technical details on that aspect with Google.   Hopefully things can remain as they are with only improvements and "no additional middle-men" in the process between your website and the Google servers.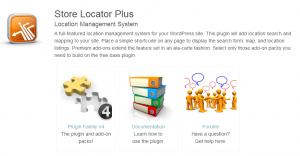 For the foreseeable future everything will remain as it is.  This puts a significant amount of added pressure on Store Locator Plus to generate revenue.   Based on the current install base that should not be a problem. Sadly less than 10% of the 45,000 installed sites purchase ANYTHING from Charleston Software Associates.   More than 41,000 sites use the free product with zero contribution toward its development and support.
One thing is certain, starting in July I am locked into the Google Maps program for at least a year.   That means SLP and the add-on packs will be around until at least August 2015.      The best way to ensure SLP is around much longer than that is for users to support the endeavor by purchasing a Premier Subscription.  The recurring annual or monthly revenue helps offset the costs of the Google OEM license.
DIY Maps?  Not So Fast
In case you are thinking "no big deal if SLP were to go away, we will just put Google or Bing Maps into our site directly", not so quick.    If your business is getting more than a few-thousand visits to your map you are going to get a call.  It is only a matter of time.  When you do the conversation goes something like this "Are you running a business that benefits in any way from having the map on your site?  Yes?   Here is your $20,000 bill." .  The only way out of it will be having a registered OEM licensed product such as Store Locator Plus.
"If SLP goes away there are other WordPress locator plugins on the market." True.  For today.   They are all "getting the call" over the next few months.    By this time next year there will be only TWO types of WordPress map plugins on the market.  Premium with support and free but in constant danger of becoming outdated, unsupported, and abandoned.
Getting A Deal On Map Licenses
How can you get the best deal for your Google Maps license?  Buy a Premier Subscription.  It is FAR cheaper than getting a license directly.    CSA is taking the "up front hit" on the license fee which is then distributed among all users.    When Google starts fine-tuning the Geocoding and map presentation service to more closely monitor per-site user stats, Premier Subscribers will be the first to have unrestricted access and higher data caps.
Paying For Good Things
I can't say I blame Google of Microsoft.   They have a great product that they have been letting businesses use at no charge for a very long time.  They have poured millions of dollars into the acquisition of intellectual property and millions more into the research and development of the products.
I have no issue with paying for the services that enable my customers to provide a better experience for their users.
For Store Locator Plus, I have elected to continue to support Google.  I've been a long-time fan of Google. I am an investor in Google stocks since the early days and have been a paid Google Business services user for nearly as long.   I like the company, the culture, and their positive impact on the technology landscape.  Plus they just seemed more interested in my business and helping me out.    I also think it is the best option for my users that have been "with Google" through Store Locator Plus for that past few years.
Improved Offerings
One of the immediate benefits is that  I will have access to the Google Enterprise development team, apparently including someone into extreme skiing.  More important, however, they can help advise on how to better implement the technology.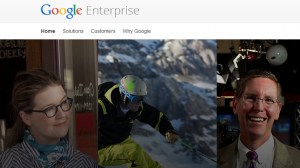 In addition the new license allows for much higher data caps and throughput than the base product.  I am planning several new service options to increase map throughput.     One of the top items on that list is a paid bulk upload service that will allow larger sites to geocode up to 100,000 locations daily.
I have a lot of locator coding in front of me over the next few months and will be bringing some new coders up-to-speed to help get it done.  In the meantime I ask for your patience and support as I navigate the changing landscape of mapping solutions.  I hope that I can remain a loyal and trustworthy guide for my customers.
Thank you for your continue support of Store Locator Plus!