Store Locator Plus 4.5.09
SLP was updated to version 4.5.09 to allow for compatibility with those users who have a lower PHP of 5.5 or lower. WordPress recommends PHP 5.6 but we realize not everyone can get their host to upgrade. WP does provide verbiage (click on the link) to send to your provider host if you are interested in helping put the pressure on. When you upgraded the base plug-in to 4.5.09 and if you had a lower version of ProPack installed, you will see a notice that disabled 4.5 version of Pro Pack. You still have access to it and can upload the latest version (4.5.07). All you need to do is log into your account and download the latest version from there as noted in an earlier blog.
Pro Pack, Tagalong, Pages = Power
As many of you have noticed there have been changes that affect some of our most popular add-ons.  The latest updates to these add-ons were made for compatibility reasons as Store Locator Plus continues to evolve on its way to become lighter, more efficient and will use less of your overhead.  Pro Pack and Tagalong have joined the ranks of LEGACY add-ons and will not be updated further since the functionality and features have been moved or added to the newer Power add-on. Legacy add-ons will continue to work with the SLP version in use at the time the add-on was purchased

When you upgrade to Power you will notice a new look. For example, there is no "Taglong" tab, but instead a "categories" Tab in the back end of Store Locator Plus.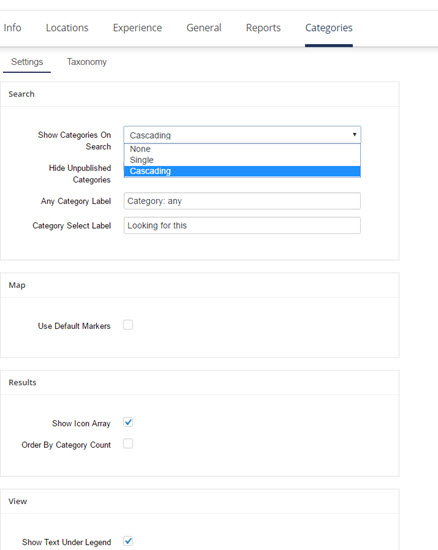 Upgrading your add-ons
Owners of any Legacy add-ons may request  a coupon to be applied to  the add-on that replaces them. That means for those of you  using Pro Pack, Tagalong, or Pages, you should request a coupon to upgrade to the Power Add On.  We will be sending out emails to select customers with this  offer as well.   Those of you who are using Enhanced * (any)  or Widgets should request a coupon to upgrade to the Experience Add On.   Some members will also be offered an invitation to Premier.
Speaking of Premier, there is an improved territory function that you may find useful and that can be fine tuned in many different ways.  Multi-site owners or administrators  should already be using Premier if they have not purchased individual add-ons per business. * This is stated in our End User licencing Agreement. Premier is the best value for the Power users, Experience users and Multi-site users.
Premier 4.5.09
Functionality has been improved regarding the territory feature.  The tutorial video from the developer and author explains how this works.
Change Log for SLP