Store Locator Plus developers have been busy with a lot of coding to prepare for the transition to a better and, hopefully, smoother internationalization and language translation process with add-ons and/or updates to the base plug-in. Translation files will no longer need to be 100% updated and accurate to prevent the settings strings from "dropping off". This is the first iteration of several that will slowly convert all admin settings to be language "neutral". The release also includes some minor performance improvements and an update to the German language file thanks to one of our Store Locator Plus customers. Tutorial and informational videos (on this release as well as "How to" instructional videos) can be viewed on the Store Locator Plus YouTube channel.
Pro Pack has also been updated to address two known issues. The first issue that may not be apparent to many users was found in the Pro Pack Reports. Pro Pack Reports were creating duplicate indexes.That has been patched. The second issue that was reported was with remote import functions set for a chronological upload. The schedule import time has to be set to seconds not the top of the hour, (NOT a time like 14:00 as noted in the help text). The help text in Pro Pack has been fixed to clarify.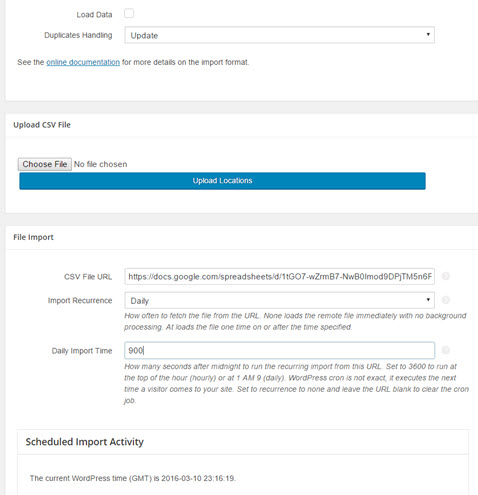 A bug was found in a past Pages release causing Pages to reset the custom Page templates and also resetting them back to draft whenever locations or other info in your location database was changed. That has been patched in 4.4.06
As a side note, if you missed the 2016 Future Forward announcement, both Pages and Pro Pack will be included in the new Power add-on, estimated to be ready for production in April 2016.
The technical background for Pro Pack release notes, Pages release notes and Store Locator Plus 4.4.30 are explained in the below videos