Description

Produced by DeBaat.
Social Media Extender adds social media links to your location listings.
Add ALL of Your Social Sites
Social Media Extender comes pre-configured with Facebook and Twitter social media accounts.   The Manage Social Media interface allows you to add as many social media sites as you need for your business.   Each social media site has its own base URL and social media icon.

Give Each Location A Social Identity
Every location in Store Locator Plus is given its own social media URL.   Turn on the Icon Array setting and the search results will automatically display the social media icon that is linked to the location's social media pages.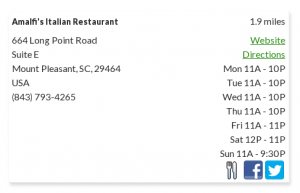 Requirements
Requires Store Locator Plus 4.1.10 or higher.
Support
This plugin is supported and maintained by DeBaat.
Please post in the Third Party Add-on forum if you have feature suggestions or questions regarding the Social Media Extender plugin.