Product Description
What Is Enhanced Map?
Store Locator Plus Enhanced Map is a premium add-on for the Store Locator Plus base plugin.   This add-on pack provides more control over the map element of the locator user interface.  The goal of Enhanced Map is to provide admin settings that make it easier to change the look and feel of the map enabling a custom user experience with minimal effort.
Note: This is a LEGACY add-on and is not meant to work with Versions 4.7 and higher of the core base Store Locator Plus plug-in. There will be no further updates of this add-on.
Like all Store Locator Plus add-on packs, Enhanced Map is an optional side-by-side plugin that works with Store Locator Plus.    The Store Locator Plus add-on packs are true add-ons, extending and augmenting the functionality of the base plugin without modifying or otherwise disrupting active location data you have stored in the Store Locator Plus system.
Per Location Map Markers
Set a custom map marker for each store location via the locations editor.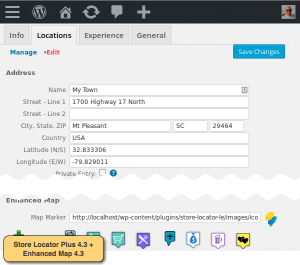 Change the look, feel, and contents of the map info bubble with a simple admin panel HTML and shortcode entry.   Show or hide location data or add HTML elements to stylize the info bubble however you wish.   Combine with Pro Pack custom CSS rules and you can style the info bubble with no code editing.
Show or hide the map on all pages or provide a slider switch to allow your site visitors to choose whether or not they see the map.   Show or hide the initial home location marker if immediately show locations is active.   Start with an image overlay instead of a map and results section until a user searches for an address.   Decide which Google Map controls are shown on the map interface.
Support for Google Maps JSON Map style rules.   These rules let you control the "inner style" of the map itself.   Pre-defined map rules allow you to set a variety of styles.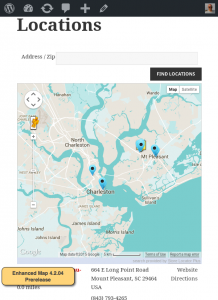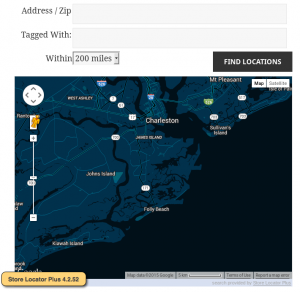 All of these settings, and more, can be managed via the User Experience / Map settings on the admin panel.
By default, Store Locator Plus offers that basic [[SLPLUS]] shortcode attribute.    Every page that contains the shortcode will display the search box, the map, and the results using the same global settings that you selected on the Store Locator Plus admin panel.
Enhanced Map allows you to customize the settings on a per-page basis by adding some map-specific shortcode attributes.
Choose a new starting point as the center of your map and initial location search at startup.
Hide the map on some pages, showing only the search box and the results listing.  Useful for simple directly-like pages.
Determine whether to place the map on/off toggle switch on the page.