Product Description
Add new data fields to the Store Locator Plus locations or manage the interaction with data fields added by other add-on packs.
Add New Fields
Add new fields to the location data that can be updated via the standard add/edit location form.    Extended data fields can be placed in search results, map info bubbles, and on Pages templates.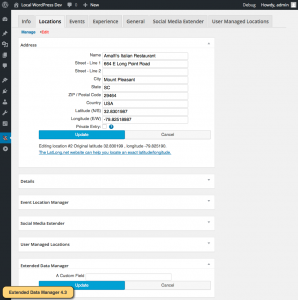 Manage Extended Fields
Whether you add your own custom fields or an add-on pack provided new location data elements, you can manage those fields.    See which add-on pack adds the fields, show or hide fields on a per-field basis, and more.