Go ahead and sign up for our Early Access Program to the My Store Locator Plus service.
My Store Locator Plus is an online subscription service that brings Store Locator Plus to ANY web technology stack.  WordPress, Django, Ruby, ASP.Net.    As long as you are hosting a site that can run JavaScript then My Store Locator Plus will work.
We are currently in the very early stages of development; what we call our "alpha release".  It is far from being the final product but it IS functional and has been tested on various web technologies to see how well it can bring the Store Locator Plus service to non-WordPress sites.
We are now opening up our private invite to the Alpha Release of My Store Locator Plus.   The select few users that are granted access will help guide us in the features and overall user experience that will make it into our initial public launch coming in early 2017.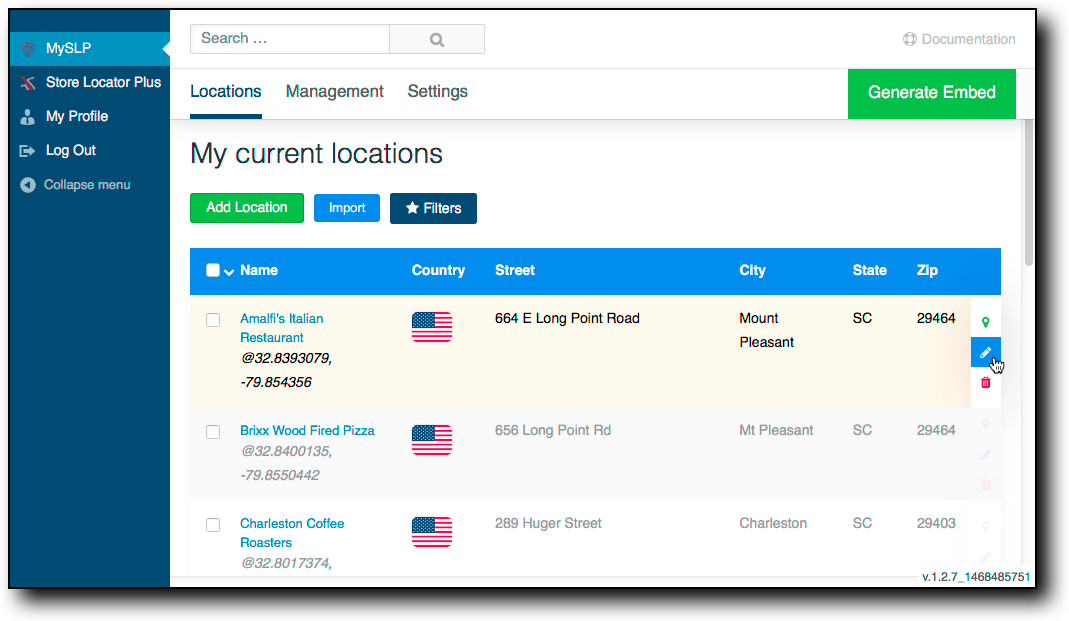 My Store Locator Plus Benefits
No API Keys.   We take care of all the technical mumbo-jumbo and implementation details for you.  If you can enter data into a web form and copy-and-paste a snippet of code into  a web page you can get up-and-running with MySLP in no-time.
No limits.  Geocode 10 locations or 10,000.   Our high volume cloud solution processes large lists of locations and manages the load automatically.
Stay updated.  No more version compatibility issues. No more security concerns.   We fully test the Store Locator Plus technology stack and ensure every component is on the latest version and that all the pieces are working in perfect harmony BEFORE integrating them into the MySLP service.  No more outdated plugins.
We've got your backup.   All of your location data and settings are stored on  our cloud service where everything is stored in triplicate.   In addition we run regular backups of the location data and settings.
The Future of Store Locator Plus
Long time Store Locator Plus plugin  user?  You're the reason we are here.    Our WordPress plugins will continue to evolve but they won't be going away.    While you may see some changes that take advantage of the My Store Locator Plus servers and services, we plan to keep the "but it and own it" version of our plugins intact for some time.     After all it is the foundation on which MySLP is built.
Over time we will be building multiple services that link My Store Locator Plus to Store Locator Plus to provide things like SLP-specific backups for your WordPress install of SLP.  Extended geocoding limits on a pay-as-you-go basis for that one time when you need to do an initial load-and-geocode of 10,000 locations.   Backup-and-restore settings or have different settings pulled from the MySLP servers to your Store Locator Plus site and services.   These are just a few of the concepts we have in our "future goodies bag" for Store Locator Plus after MySLP launches.