Social Media Extender is a premium add-on pack for Store Locator Plus. Social Media Extender adds icons and media links to your locations data.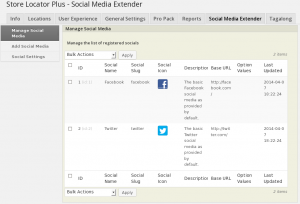 Add Social Media
Add a new social media site using the add social media form.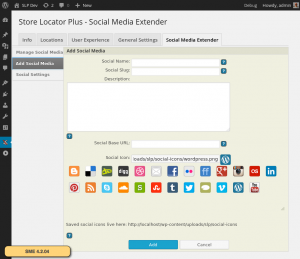 Social Name– the general media name that is the "public presentation" of the media service. This name is also used as label in the forms to add or edit the data of a location.
Slug – the computer-readable shorthand for the media service, this will be set automatically if left blank.
Description – the long form description of the service.
Social Base URL – the base URL for the service, without the user specific extension but including the separating '/'. (for example: http://www.facebook.com/)
Social Icon – the icon that will show up in the location search results for the service you are configuring.
Manage Social Media
Manage the list of social media sites that are currently available to your locations. First set the base URL for the social media service, the corresponding icon that is presented in the icon array for the search results, the name of the media, and a slug.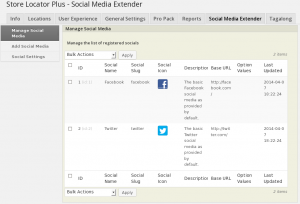 This page is a general listing page with basic bulk operations such as deleting one-or-more social media sites.

Location Manager
The other part of the system is the location editor interface which allows location-specific social account IDs to be added so each location can link to its own social media pages. The social media links appear in the Extended Data section while using the standard location editor. The Social Name mentioned in the Add social media form above is used as label for the entry field. Navigate to the location editor via the Locations tab in Store Locator Plus.
When editing a location you will see entries in the Extended Information section with your social media sites listed. Enter the social account ID (the ENDING PART) of the social media link for that location. The base URL for the social service, "http://www.facebook.com/" for example, will automatically prefix the entry. For my company I enter "charlesetonsoftwareassociates" for Facebook.  When the results are shown below the map the link will be to http://www.facebook.com/charlestonsoftwareassociates.
Social Settings
Social settings are over-arching settings that impact the behavior of the plugin.
Show Icon Array – either on or off. If on the social media icons will appear in the location search results and will be linked to the location's social media pages. Please note that a social icon will only be shown when the corresponding social account ID is given.
Shortcodes
Social Media Extender currently supports the following shortcodes:
Results Layout
The Enhanced Results add-on pack is required to have the ability to change the results layout.
[[slp_location socialiconarray]]
Place the icon array in a specific location in the results output.
[button link="/wordpress-locator-improves-social-media/" color="purple"]Read More[/button]